Oscar's Best and Worst Musical Performances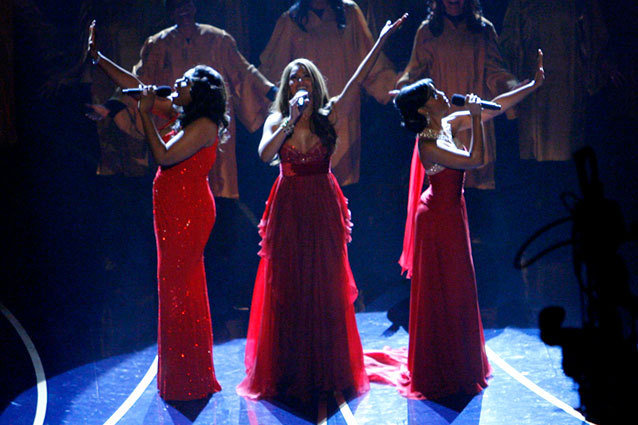 Last year the Oscars was, well, it was something. Coming off the Anne Hathaway and James Franco hosting debacle, we had undead marionette Billy Crystal emceeing the ceremony, doing his signature medley of all the Best Picture nominees as soon as the red carpet pre-show wrapped. That was about it for musical performances, other than the "In Memoriam" reel and some other crazy A. R. Rahman thing that no one really wanted.
That's because there were almost no Best Original Song nominees last year, and neither one was performed. Well, the category is back in full swing, and host Seth McFarlane — who has more jazz hands than a dance school in West Topeka — is sure to do some sort of bombastic production number. Oh, and there's going to be an ode to movie musicals too, featuring Catherine Zeta-Jones, Jennifer Hudson, Anne Hathaway, and the rest of the We Won an Oscar for Best Supporting Actress by Singing in a Musical Club.
Musicals numbers are back, so let's take this time to look at the best and worst (and a couple of so-good-they're-bad and so-bad-they're-good) from awards shows past.
Next: The Girls of Your Dreams
Follow Brian Moylan on Twitter @BrianJMoylan
[Photo Credit: AP Photo]



 

BEST

Beyoncé, Jennifer Hudson, and Anika Noni Rose sing "Love You I Do," "Listen," and "Patience" from Dreamgirls

It's not often that you get this many vocal powerhouses on stage at one time, so when you do, it's best to make the most of it. This 2008 clip (sorry the quality is so crappy, but someone is trying to keep this off YouTube) will go down in Oscar History, even if J Hud was the only one to walk away with the trophy.



 

WORST

Snow White and Robe Lowe sing some ungodly creation.

This is the Platonic ideal of an awful Oscar opening number. In 1989, Eileen Bowman played the animated heroine in an odyssey that included dancing stars, Merv Griffin, and a scandal-plauged Lowe singing strange tunes with the words all jumbled around. It's a travesty and you can't take your eyes away. For a full recounting of the whole incident, check out this amazing article.



 

BEST

Michael Jackson sings "Ben" from Ben

Look past the cheesy '70s set and the awful glittery jump suit. Forget that this is a song about a man who is in love with his pet rat. When all that goes away, we're left with the pristine quality of Michael Jackson's voice before he messed it up with years of drugs and before he messed up his face with more plastic surgery than a Real Housewives of Everywhere reunion. This is one of those instances where talent gets past all of that, and we still love it.



 

WORST

Bjork singing "I've Seen It All" from Dancer in the Dark

I have no problem with the swan dress. In fact, I kind of love that Bjork opted to wear something so different and daring that we still talk about it 12 years later. What I can't abide is her squawking around the stage and stamping her feet and singing this weirdly-cyclical, boring song. I know she can do so much better, and I'm sure most of the audience at home was as befuddled by the performance as they were the attire.



 

BEST

Madonna singing "Sooner of Later" from Dick Tracy

Let's face it — it's best that Madonna never win an Oscar for acting. Really, we don't need to give her one more reason to make another movie. But as far as performing at the Oscars go, she is a champion. This is how you can captivate an audience while standing practically still in the middle of a stage. This is Madonna at the height of her fame and prowess in 1991, singing a beautiful Steven Sondheim song that won the Oscar later that night. To prove Madge is Oscar gold, check out her second performance of "You Must Love Me," from Evita. Not as good of a song, but still a top-notch performance.



 

WORST

Gwyneth Paltrow singing "Coming Home" from Country Strong

Gwyneth Paltrow thinks that everything about her life is great, including her singing ability. She is often wrong.



 

BEST/WORST

Celine Dion singing "My Heart Will Go On" from Titanic

Yes, this is an iconic song. Yes, Celine Dion is a very proficent singer. Yes, in 1997 Ms. Dion was everything and her song won the Oscar. But why do I hate this so much? Why do so many people think that she sounds like a bleating goat standing there on stage with a trillion-dollar diamond (the same one from the movie) on her turtlenecked frame (you can take the girl out of Canada but…)? This is one of those numbers that you either love or hate. I fall in the latter camp.



 

BEST

Pilobolus doing God knows what

This isn't exactly a musical number, but there's dancing, so I'm counting it. The members of this dance troupe figured out how to turn their bodies into iconic shapes from the year's movies. I still wonder just how they achieved this fate today. Amazing. Also amazing: Ellen DeGeneres hosted the Oscars. Remember that?



 

WORST

Kathleen Bird York singing "In the Deep" from Crash

2003 was a crappy year at the Oscars. Not only did Crash steal a statue from the far superior Brokeback Mountain, we also had to endure this abomination of an New Age song from the film that was nominated for Best Original Song. What do a burning car, slow-motion dancers, and enough dry ice to power every production of Phantom of the Opera in the entire universe have in common? I hate them all.



 

BEST/WORST

Sheena Easton singing "For Your Eyes Only" from For Your Eyes Only

This year, one of the highlights of the show will be Adele getting up to sing "Skyfall" from the James Bond flick of the same name. She will wear a tasteful dress and belt for the rafters and everyone will applaud. It will look nothing like this other Bond number from 1981, which features 007 driving on stage and kicking the asses of a bunch of dancing ninjas while his car shoots a laser beams. And can we talk about Sheena's hair which is straight out of one of the worst Nagel paintings I've ever seen. This this is so incredibly awful. Isn't it amazing!? Even with the crappy video quality, you still can't look away. They just don't make camp like they used to. Sure Adele will be nice, but it's not going to be anything like this.



 

WORST

Hugh Jackman's Opening Number

I love Hugh Jackman. Of all the celebrities in Hollywood, I would like to see his huge ackman over anyone else's. However, his 2008 stint hosting was marred by this rather dreadful opening number. The joke was that the recession made him scale everything down, which is a cute gag but doesn't work for the whole eight minutes. Combine that with Anne Hathaway giving one of those falsely modest performances that make people hate her and, well, I couldn't even watch it all the way through. However, the joke about not seeing The Reader almost makes the whole thing worthwhile.



 

BEST

Neil Patrick Harris' Opening Number

Sorry, Hugh, this is how you bring in the show. NPH, who isn't even really a movie star, is better at the awards show game than just about anyone else. He sings a quick song, does some great dance moves, gets us ready for the show with a big extravaganza and then hands it over to the hosts. Just simply distilled perfection. Leave it to a gay to know how to kick off a show. (I'm sure he's not the one who had the Best Actor nominees come out on stage for one full minute of thunderous applause that they did not need.)



 

WORST

"Under the Sea" and "Kiss the Girl" from The Little Mermaid

As soon as you heard that the dancers were choreographed by Paula Abdul, you knew this thing would be a mess. What's so awful about Samuel E. Wright's performance of these two nominated songs ("Under the Sea" won) is that he just stands in the middle of the blank stage for the first one, and for the second one it's like a sea anemone was stuffed with glitter and then exploded. There is an octopus chandelier, tap dancing scuba divers, and more midriffs than all of Britney Spears' early videos combined. The funny part is this looks like an even worse version of Disney's infamous Broadway version of the show, which was also a giant bomb.



 

BEST

"Belle" and "Be Our Guest" from Beauty & The Beast

Looks like Disney learned a lot two years after The Little Mermaid, because this two-song medley was much better. The first song is busy and costumey, sort of like the wonderful Broadway version of the show, but then it dissolves into Jerry Orbach (RIP) and some chorus girls doing a top-notch, grounded version of the crowd pleasing "Be Our Guest." Still this wasn't enough to beat the title track for the Oscar, which had a snoozer of a performance (Angela Landsbury can't do a kick line like she used to), but is probably a better song.



 

WORST

Three 6 Mafia singing "Hard Out Here for a Pimp" from Hustle and Flow

This isn't a bad song, and is, to its credit, the only hip-hop song to win an Oscar. It's just, well, the Academy ain't got no swag. Sure, this bootleg living room is supposed to be reminiscent of the movie, but it looks like a cast-off from an old season of Roseanne. Plus, Taraji P. Henson in a full-length gown while the rest of the guys wear street clothes makes the whole thing feel just… off. And they can't even say "bitches"! They had to change it to "witches," which is the silliest thing to happen since The Doors couldn't sing "Girl, we couldn't get much higher" on The Ed Sullivan Show.