The Night the Oscars Fell Down: Why It Was One of the Most Boring Ceremonies in Years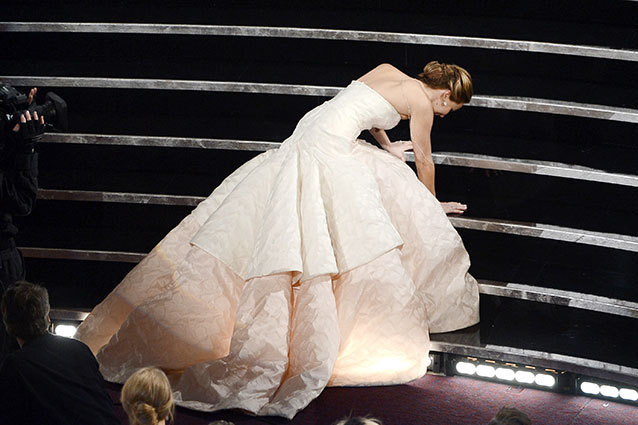 Poor Jennifer Lawrence, rushing up from the front row to grab her statue for Best Actress in a dress that looks like it won first prize in the Build a Wedding Dress Out of Toilet Paper contest. She fell down. Well, she actually slipped on the banana peel that we all planted there for Anne Hathaway in the hopes that America's most hated actress would take a tumble. But it was Jennifer who stumbled (Hugh Jackman got up to save her fall) and made a joke about how the tumble was the only reason for her standing ovation. It's sad that this was one of the most exciting moments at the 85th Annual Academy Awards.
Yes, this year the Oscars were boring. Well, I don't know if "boring" is the right word. The ceremony is always kind of boring, right? There is the thrill of seeing the host's monologue and the first big Supporting Actor/Actress category. But, typically, that's only followed by the lull of the shorts and documentaries, and then the technical categories before, finally, the ceremony rewards the biggest categories of the night. In recent years, the onslaught of Oscar prognostication in publications and across the Internet created a race that is almost predetermined before the envelopes were opened. (Speaking of which, did we notice that Meryl Streep didn't seem to look at the contents of her envelope, instead decreeing Daniel Day-Lewis the Best Actor winner because she is Meryl F-ing Streep and she can just say so?) This year, the show just seemed more tedious, filled with missed opportunities, some unfortunate technical difficulties, and a muddled tone.
The ceremony was something out of both a frat boy and a homosexual's fever dream. The frat boys had host Seth MacFarlane and his typical potty humor — his schtick included a song about boobs, jokes about pretty girls, comments about how he is decidedly not gay even though everything that has to do with musicals is gay, and edgy quips that could come off racist, sexist, homophobic, and anti-Semitic if you look at them in the wrong light. (After all, the only thing that Seth MacFarlane likes more than a funny voice is a Jew joke.) Then, well, you had all the gay stuff about musicals. And Barbra Streisand. And musicals. And gay people winning awards. But wait — that didn't happen because Tony Kushner and How to Survive a Plague were robbed. Well, at least the gays just got the musicals!
RELATED: Seth MacFarlane's Monologue: What'd You Think?
The theme this year had something to do with movie musicals, which could have been a great boon for the production value of the show. Given that the ceremony was produced by Craig Zadan and Neil Meron, the unambiguously gay duo that specialize in bringing Broadway to the screen, it was the perfect opportunity. Yet the musical salute seemed to be more of a tribute to their musical Chicago than musicals in general. Did we really need to stare into Renée Zellweger's disappearing eye slits as the cast of Chicago reunited on stage?
Plus, we were forced to be privy to a paltry selection of musicals in the tribute itself — only Chicago, Dreamgirls, and a medley from Les Miserables that would make you claw your own ears off were highlighted during the ceremony. Nothing from Best Picture musicals like Gigi, West Side Story, My Fair Lady, or even The Sound of Music? (Instead, the latter Best Picture winner was referenced merely in a Von Trapp Nazi joke.) There is a rich cinematic history of musicals, so where are all the old production numbers that might get people who love Glee logging onto Netflix to watch Sweet Charity? They were in the same place as Zellweger's old face, apparently. 
While Shirley Bassey singing "Goldfinger" was one of the highlights of the show, it's difficult to determine just how her package was a tribute to the songs of James Bond. A montage, a few strings from "Live and Let Die," and Bassey's "Goldfinger" — couldn't we have crammed a few more songs in there? Where was Tina Turner, Madonna, Sheryl Crowe, and Duran Duran? 007's case would have been much stronger if the ceremony had capped the tribute off with Adele's "Skyfall," which was inexplicably placed later in the ceremony. (And I couldn't have been the only one left wondering why the Oscars only featured three out of the five Best Original Song entries.) 
RELATED: Barbra Streisand at the Oscars: Sigh…
Adele's number later ("Skyfall" from Skyfall, of course) was well done, though her nerves — or perhaps sound issues — led to mixed feelings surrounding her comeback. Barbra Streisand, on the other hand, killed her version of "The Way We Were" to cap the In Memoriam montage. But the sound problems only returned for MacFarlane and Kristin Chenoweth's amusing "Let's Hear it for the Losers" soft shoe to end the night. 
The musical numbers weren't the only thing plagued with problems during the Oscars. The banter and gags throughout the show fell on unamused ears. The usually always amazing Paul Rudd and Melissa McCarthy bombed with a gag about voice work when presenting Best Animated Feature. And things only got worse: Samuel L. Jackson and Robert Downey Jr. did a confusing bit surrounding a teleprompter argument before awarding Best Cinematography. Was it a joke? Or were they really arguing? Whatever the case, it was awful. And it's just best not to talk about Kristen Stewart's complete inability to annunciate, right? 
What's strange, though, is the awards show managed to be the most boring Oscars with the most shocking wins. If you actually picked Christoph Waltz for Best Supporting Actor in your Oscar Pool, then you are a better man than I am. The same goes for Ang Lee, who took home Best Director. Even Lawrence lurched toward victory despite talk that Emmanuelle Riva was poised to steal Oscar gold. The awards this year weren't as cut and dried as they often are (we even had a shocking and exciting tie, but it was for Sound Editing, a category no one can adequately describe not to mention care about), so 2013's ceremony did offer some suspense.
RELATED: Oscars 2013: See the Winners Here!
But not enough to make up for the lack thereof in the night's speeches. When Daniel Day-Lewis becomes known as 2013's class clown, you know the Oscars are in bad shape. There were no animated speeches, no expletive-ridden speeches, and no embarrassing speeches. Anne Hathaway wasn't needy enough, Quentin Tarantino wasn't crazy enough, and Lawrence, maybe thrown off by her bobble, was far more flustered and less winning that we've become used to this awards season. The most remarkable thing about the winners is how they were all trying to outdo Saruman from The Lord of the Rings with their identical long, white hair. Still, Ben Affleck managed to be winning, bringing himself close to tears when Argo won for Best Picture. (The best revenge for a Gigli joke from MacFarlane.)
Speaking of Best Pictures, Michelle Obama shocked us all by appearing on a screen to read the winner and the Oscars said, "Screw you, Golden Globes, for thinking you're so cool that you have Bill Clinton." Yes, there were plenty of surprises and, I'm sure, plenty of moments that will become iconic, but for a show that was more than 30 minutes too long and much longer than most in recent memory, there didn't seem to be that much return on the investment of our time. It was so long, but, for what? All that Captain Kirk stuff at the beginning? All those extraneous musical numbers that seemed more poised to sell Blu-rays than actually educate the public? When the big highlight is Jennifer Lawrence almost embarrassing herself (as if that's possible), you know Oscar has plenty to work on before 2014.
Follow Brian Moylan on Twitter @BrianJMoylan
[Photo Credit: Kevin Winter/Getty Images]
---
Oscars 2013 Special Coverage
---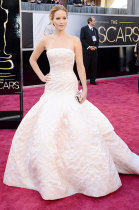 Oscars 2013 Best Dressed: PICS!
• Anne Hathaway: Oscar's Worst Dressed?
• Seth MacFarlane's Opening: How'd He Do?
• Adele's Performance Gets Mixed Reviews
• 15 Oscar-Winning Nude Scenes
• What Happened to Renee Zellweger's Face?
• Oscars 2013: The Full Winners List
• The Winner, According to You
---
From Our Partners:


40 Most Revealing See-Through Red Carpet Looks (Vh1)


33 Child Stars: Where Are They Now? (Celebuzz)