Our Favorite Actresses Who Can Sing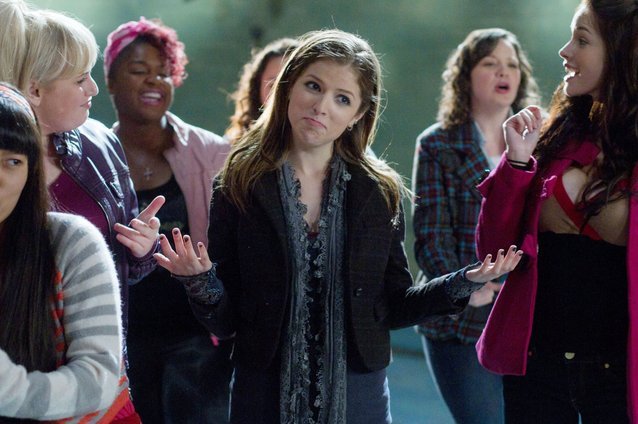 Universal via Everett Collection
Plenty of singers try their hand at acting… some successfully (Cher, Barbara Streisand) and others not so successfully (Madonna, Kelly Clarkson, Mariah Carey, Christina Aguilera, etc.). There are times, though, when we're bowled over by the musical talents of our favorite actresses.
Whether it's voicing an animated heroine or taking an unexpected role in a big budget musical, these actresses have proven that they have the pipes to belt out a tune while still delivering top-notch acting performances.
When many people saw the credits for Disney's Frozen, they assumed that Bell was just providing the speaking part for Anna, that surely it was someone else singing on "Love Is an Open Door." Even some hardcore Veronica Mars fans had lost sight of the fact that Bell came from a musical theater background or forgot about her appearance in Refer Madness: The Musical.
So, a lot of people find Hathaway pretentious and annoying… it doesn't change the fact that the girl can sing. Audiences were surprised when her character started singing in one of her early films, Ella Enchanted, but by the time of Les Miserables, we were all aware that she had the ability. Still, her powerful rendition of "I Dreamed a Dream" surprised just about everyone.
When Seyfried was first starting out in Mean Girls, we thought she was just another soap opera actress (she appeared on As the World Turns and All My Children) making a jump to the big time… which she subsequently did with her role on HBO's Big Love. Little known to the public, she had training in not only musical theater, but opera. It wasn't until 2008's Mamma Mia! that audiences got a taste of her singing… and then came her performance as Cosette in Les Miserables. C'est magnifique!
Stone doesn't sing much because of some vocal cord issues, but when she was younger she was part of VH1's In Search of the New Partridge Family. She also did some backing vocals for the remake of The Waitresses' "I Know What Boys Like" from The House Bunny. It was her performance during the school assembly scene of Easy A,where she rocked the disco classic "Knock on Wood," that left audiences wondering if it was really her voice. It was indeed, and she was spectacular.
For years, Streep was known as the premier actress of her generation, though not as a performer with any musical ability. Starting with 2006's Prairie Home Companion, however, Streep has been unafraid to put her voice out for public consumption. She looked like she was having a blast playing the lead in Mamma Mia! opposite Seyfried and will soon be back on the big screen playing the Witch in the film adaption of Stephen Sondheim's Into the Woods.
Despite starting her career doing Broadway musicals as a girl, the new "It" singing actress first came to notice with largely non-musical roles in Twilight and Up in the Air (although we did get a glimpse with her karaoke version of "Time After Time").  It wasn't until she killed as the reluctant a capella participant in Pitch Perfect that audiences fell in love with her voice. The actresses even scored a hit single with her version of "Cups (When I'm Gone)" from the soundtrack. With roles in Into the Woods and Pitch Perfect 2, we'll get plenty of opportunities to continue enjoying her vocal talent.
Her work with M. Ward on their She & Him projects have turned Deschanel into a legitimate recording artist, but she's still better known for her acting in movies like (500) Days of Summer and her TV show New Girl. Every Christmas the actress pops up in one of her earlier film roles as Will Ferrell's love interest in Elf singing holiday classics and she's set to appear in Barry Levinson's musical comedy Rock the Kasbah.
Adams may be a five-time Academy Award nominee and might turn heads on the red carpet with her plunging necklines, but she knows her way around a song as well. The actress made a believable live-action Disney princess in Enchanted, including taking center stage during the big production number "That's How You Know." She apparently likes to sing in kiddie fare, because her other big on-screen musical moments mostly happened with Jason Segel, Kermit and Miss Piggy in The Muppets.
Paltrow's mother, Blythe Danner, started her film career in the musical 1776 and she has an uncle that's an opera singer, so she comes by her vocal abilities honestly. After making her on-screen singing debut in Emma, she starred in her father Bruce Paltrow's Duets, where her collaboration with Huey Lewis on Smokey Robinson's "Cruisin'" spawned an adult contemporary hit.  Besides having a recurring spot on TV's Glee, Paltrow also got her twang on in Country Strong.