Our Favorite Scenes from 'Scott Pilgrim vs. The World'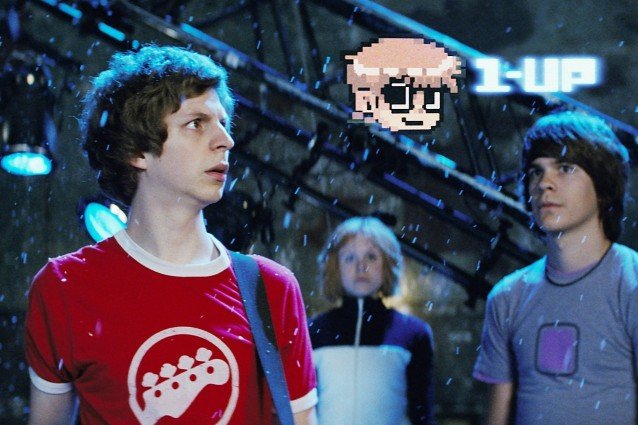 Universal via Everett Collection
Did you know that over the past year or so Bryan Lee O'Malley has been creating color editions of his Scott Pilgrim series? Yup – Scott Pilgrim Gets it Together  came out in November, and Scott Pilgrim vs. The Universe is due out in April. In honor of the color hardcovers, here are some of our favorite scenes from Scott Pilgrim vs. The World (boy, was it hard to narrow this down).
Vegan powers
It's hard to choose a favorite evil ex battle (Matthew Patel's pirate-y outfit and Roxy Richter's "I'm a little bi-FURIOUS" are definitely honorable mentions) but Todd's mix of vegan superiority and unabashed ignorance (or as Scott puts it, "cocky cock"-ness) is hilarious – add that to a fangirling Knives, and the tension-riddled room, and you've got a spectacular tableau.
It should also be noted that Todd was able to punch the highlights out of poor Knives' hair (dramatic yell: "He punched the highlights out of her hair!"). And the concept of the vegan police is kind of amazing.
Wallace Wells: Super-gossip
He can send texts in his sleep. Enough said.
The Final Battle
Scott earned the power of love! Scott earns the power of self-respect! Knives Chau kicks some serious Gideon Graves ass (in fact, she's so badass that it almost has you wishing that Edgar Wright went with the original ending where Scott ends up with Knives instead of Ramona)! What's not to like?
Kim Pine
Pretty much every single scene with Kim Pine was pure awesome: her death stare across the room when Scott tries to brush over their breakup, "If your life had a face, I'd punch it," and of course:
Feel free to add your favorites in the comments!