Review: 'Oz the Great and Powerful' Successfully Drowns James Franco in Imagination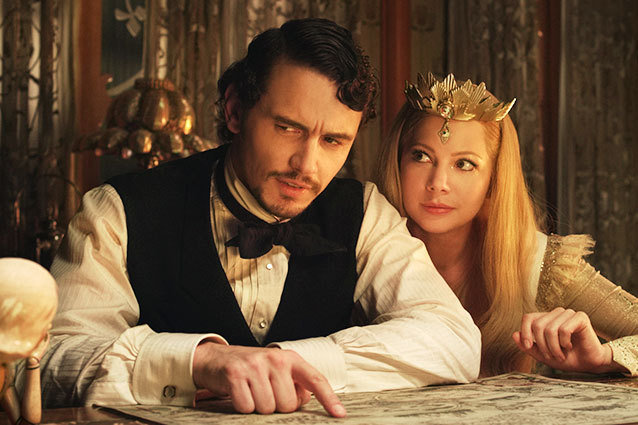 Despite looking like a spiritual sequel to 2010's Alice in Wonderland and sending every punctuation stickler into a tizzy, the Wizard of Oz preboot Oz the Great and Powerful works magic on the big screen. Director Sam Raimi (Spider-Man) fixes all of Alice's mistakes, fluffing up the eye-popping CG decor with bright colors and fueling his fairy tale adventure with a good deal of soul. Like 2011's Hugo did with the early days of cinema, Raimi turns Oz into a love letter for old school magic, mesmerizingng Technicolor, and the fantastical approach that made the 1939 original a classic. Alice may have made a billion dollars at the box office, but Ozis the success — whimsical, silly, and totally transportive.
James Franco stars as Oscar Diggs, the man who eventually becomes "the Wizard" that we know. But first, he's a magician from the Dustbowl Era, willing to con even his closest friends to have life go his way. To help him learn a lesson, the Forces That Be ensnare him in a tornado — a one way ticket to the land of Oz. After quickly shaking off the fact that the alternative universe bares his same name, Oscar crosses paths with Theodora (Mila Kunis), a witch who believes him to be a prophetic Wizard sent to save Oz from the Wicked Witch of the West. So begins their cross-Oz journey — and Oscar's greatest con to date.
RELATED: 15 'Oz' Adaptations You Didn't Know You Needed (and 2 That Are NSFW)
As the "Wizard" learns the ropes, accepting the challenge to defeat the Wicked Witch after learning of Emerald City's vast treasures, he meets the real stars of Raimi's show. Rachel Weisz has a ball as Theodora's dastardly sister Evanora, who pulls strings in the Emerald City as the citizens await the Wizard. Continually sending into a Mommie Dearest-level rage is Glinda. Michelle Williams captures the innocence and elegance of the Glinda from the '39 film with an added snap of wit. She may be the nicest witch in all of Oz, but piss her off and she'll blast you with magic. Much of Oz the Great and Powerful is dedicated to exploring the expansive world Raimi has designed — The crystalline Emerald City, Munchkin City and its wholesome residents, the delicate "China Town" (made of actual China plates) ravaged by the Wicked Witch's flying monkeys — and it works thanks to the host of characters carrying it along. Even Zach Braff as a talking monkey works as comedic relief (providing a few of the surprisingly effective 3D gags).
The only thing that falls flat in Oz is Franco. And not just a little bit — like a house lifted up by a maelstrom and slammed back into the Earth kind of thwomp. Oscar is supposed to be a man in need of redemption, a self-obsessive who is destructive to the people around him. Franco fits the bill… but it doesn't feel like a character. The actor is self-aware of his non-existent surroundings. He's goofy instead of theatrical. His smug grin creates a disconnect between him and his costars, real or digital. At one point Oscar cradles a living porcelain doll he finds in the smoldering remains of China Town. It's a touching bit of sadness that Franco sells. But as Oscar begins to "change," Franco stays put, acting like the world of Oz is one big joke when we're waiting for him to wake up to the fact that it isn't.
RELATED: Watch: Dr. Oz The Great And Powerful!
But not even Franco's laid back approach can sink Raimi's inspired vision, which unexpectedly expresses all of the director's quirks right down to the wild camera movements, bold canted angles, and an instinct that allows Oz to get a little scary (don't worry, children: not Evil Dead scary). Raimi's film pays its dues to past Oz incarnations, down to a riff on "Lollipop King" from composer Danny Elfman, but still feels innovative. The director contends with Franco around every turn of the yellow brick road, orchestrating action sequences, fantastical encounters, and even a musical number, around him in hopes of drowning Oscar in imagination. The combined powers of Weisz, Williams, and Kunis do the trick against the charisma-lacking leading man. Maybe just the three ladies for the sequel?
What do you think? Tell Matt Patches directly on Twitter @misterpatches and read more of his reviews on Rotten Tomatoes!
[Photo Credit: Merie Wallace/Disney]
2.5/5