'Pan's Labyrinth': The Musical (There's Gonna Be Some Freaky Jazz Hands)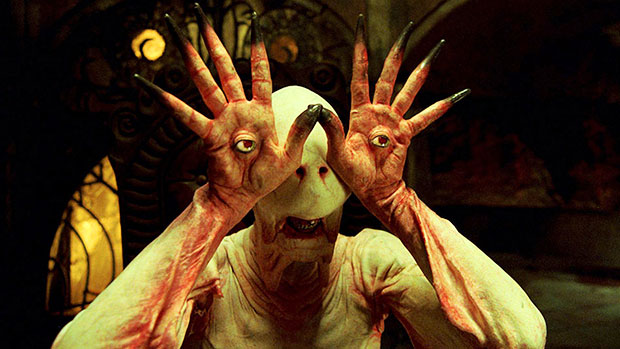 The transformation of feature films into stage musicals is becoming more and more prevalent. The practice used to be restricted to Hollywood blockbusters, like The Lion King, Billy Elliot, or the unfortunate stage adaptation that would befall Stephen King's Carrie. But contemporary productions have drawn from movies with more specific audiences: Bring It On, Once, Elf, and Deadline's report of a new Pan's Labyrinth musical. Guillermo del Toro's dark fantasy does not necessarily seem like the most accessible material for a musical play, but the director has found within his 2006 picture a viable source of live entertainment. Del Toro has already constructed the story with filmmaker Jeremy Ungar, and has tasked established cinematic music men Paul Williams and Gustavo Santaolalla with taking on the lyrics and music, respectively.
As an independent artist, Williams has contributed a great deal of memorable songs: "We've Only Just Begun," and "Rainy Days and Mondays" (both performed by The Carpenters), "Old Fashioned Love Song" (performed by Three Dog Night), and "Fill Your Heart" (performed by David Bowie). But in the realm of cinema, Williams has crafted one timeless piece to stand out beyond all others — "Rainbow Connection," Kermit the Frog's classic banjo-accompanied number from the original Muppet Movie. Additionally, Williams both starred in and wrote music for Brian De Palma's 1974 horror-comedy Phantom of the Paradise.
Composer Santaolalla has had his hands in the scores for many esteemed pictures throughout the past decade, ranging The Motorcycle Diaries to Brokeback Mountain to Babel, and working specifically with del Toro on Amores Perros and Biutiful. The melding of Santaolalla's pretty and ominous harmonies with the sprightly lyrics of Williams will make for an interesting feast for the ears, perhaps the perfect recipe for a film like Pan's Labyrinth: fun and imaginative, yet wholly unnerving.
But thinking beyond the music, we must consider one of the greatest challenges a theatrical production will face: imitating the stellar, gripping imagery of Pan's Labyrinth. Some plays, most notably The Lion King, have succeeded in creating a new, exciting visual spectacle from their cinematic sources. Can Pan's, an aesthetic superpower, manage the same?
[Photo Credit: Picture House]
More:
'Jumanji' Remake Gets A Writer — Let's Hope He Brings Back the Scary Spider
Dan Aykroyd on 'Ghostbusters 3′: "It's Time Now to Sit Down and Make This Movie'
'Beasts of the Southern Wild': Training Pigs to Pull Off Special Effects — EXCLUSIVE VIDEO

12 Funniest Movie Presidents in Film (Moviefone)

New 'Star Trek Into Darkness' Trailer! — Cue Khan Scream (Moviefone)