Paul W.S. Anderson To Make Buck Rogers In 3D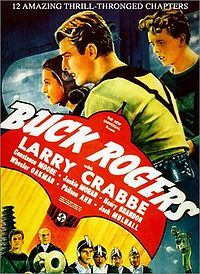 Source: Deadline New York
Deadline reports that director Paul W.S. Anderson (Death Race, Resident Evil films) has locked a deal to direct a new version of Buck Rogers, the classic tale of a fighter pilot who wakes up in the 25th Century and quickly acclimates to the future, putting his skills to use defending the planet against invaders.
Iron Man scribes Art Marcum and Matt Holloway will write the screenplay.
The character launched in the 1920s and has been the subject of comic books, radio and movie serials, and two TV series, the latter of which ran on NBC and starred Gil Gerard.
Paradox, the company behind the new Conan movie, owns the rights to the age-old character. Paradox will finance and Anderson's partner, Jeremy Bolt, will produce with Fredrik Malmberg, Larry Abramson and George Furla.