SXSW: Paul Walker On Cutting Through The Bulls**t to Make 'Hours'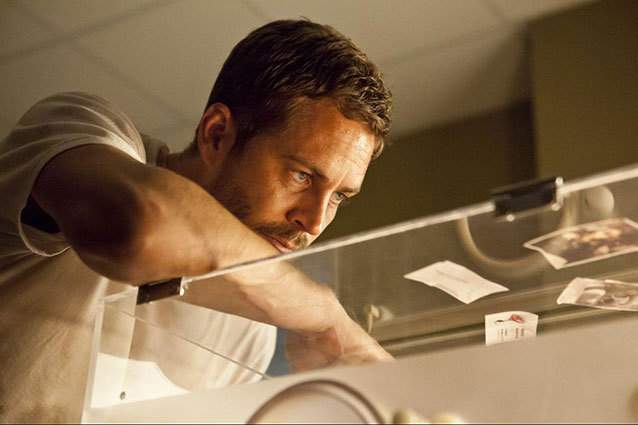 Paul Walker has traded his usual multi-million franchise blockbusters for a shoestring budget indie — and sorry Hollywood standards — but he couldn't be happier about it. Walker appears in Hours, a drama about a new father who struggles to keep his newborn daughter alive as Hurricane Katrina unleashes down on New Orleans and leaves him stranded with no power for days in an abandoned hospital. 
Hollywood.com spoke to the actor, alongside Hours writer/director Eric Heisserer, before the film had its world premiere at the SXSW Film Festival over the weekend. Walker described the experience of working on something with no car explosions or chases, but instead a small, labor of love project as "a breath of fresh air….It was stripped down and more honest… it's nice being able to step away and just tell the truth and work with people that are there because they want to be there." 
RELATED: Josh Duhamel at SXSW: What Fergie Thought of His 'Scenic Route Mohawk
"[Working] in an industry where there's a ton of money to be made, it's so hard navigating through the nonsense and finding people that have any substance." Walker continued, "This wasn't one of those movies because they wanted me because they know they're gonna get the financing, I liked that. I met up with [Eric] and I see a genuine guy and what he sees in it. I walked away and I was like, 'Oh f**k man, I liked him, I hope he liked me' and then I get the phone call, 'He really wants you to make the movie, he thinks you're the guy. Immediately it's a huge compliment and then I'm like, 'S**t, I can't screw this up'."
Because while working with Heisserer on Hours (who calls the film "a love letter to parents") was a no-brainer for Walker, the actor said he did feel pressure with the film when it came to his performance, as he spends a majority of his running time of the film acting alone, and it's more intimate than anything we've ever seen him do before. I'm used to being just one of the guys on set and f**king around and having fun, but now I've gotta be vulnerable." 
But Walker said that Heisserer's research on the project ("I've never sat down with anybody who was more over- prepared than him") and "the fact that I have a daughter" erased his fears of taking on such a stripped-down performance. Walker added, "I did the best I could and if people don't like my performance… they just don't like me. That's the fact." 
RELATED: SXSW: Adam Brody Talks About the Divisive Neil LaBute and His Work in 'Some Girl(s)'
Both Walker and Heisserer both cited each other's hard work on the film for the end product, but both men gave the highest regard to the New Orleans crew and extras they had on set. Filmed in New Orleans over the course of just 18 days, everyone wanted to make sure the story of Walker's character and his daughter struggling to stay alive through Hurricane Katrina (Heisserer described the film as a "mitosis of a whole bunch of true stories" from Katrina), rang as truthfully as possible. 
"We had that extra measure of accountability, the bulls**t police were there," Walker said of the New Orleans crew who worked on the film and consulted them about how things really were. "You can feel they all had a real investment in it, you can tell they weren't just there to show up…it felt like a genuine collective, effort. I think that's why it came out the way it did." 
RELATED: SXSW 2013: Our 5 Must-See Films
In fact, the tight-knit cast and crew have still stayed bonded since the experience. Both Heisserer (who said that filmmakers who have made movies about Katrina have all "had that same feeling of wanting to give back" to the community) and Walker said they keep in touch with people who worked on and dedicated themselves to the film. In fact, Walker said he received one from a crew member that simply read: "We're at SXSW!"
[Photo credit:  SXSW]
---
You Might Also Like:


Topanga's Revealing Lingerie Shoot: Hello '90s!


Stars Who Have Lost Roles For Being Too Hot (Celebuzz)