A Wookiee Shows the Human Side of 'Star Wars'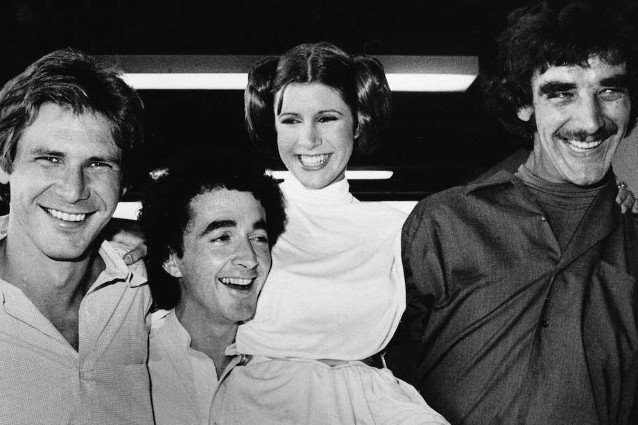 The name Peter Mayhew for the most part only rings bells for the most ardent Star Wars enthusiasts. The 7-foot-2 actor, who donned the costume of Chewbacca in the original trilogy, was lumped in with Kenny Baker, Anthony Daniels and David Prowse, the faceless group behind R2-D2, C3PO and Darth Vader, respectively –recognizable only if you're a regular Comic-Con attendee.
Mayhew, however, has suddenly found himself with a legion of new followers on Twitter (@TheWookieeRoars) after he recently began tweeting photos that he has from the sets of the Star Wars films. There have been hundreds of pages devoted to George Lucas' brainchild, yet the photos that Mayhew has put out there for public consumption highlight a personal aspect that is frequently missing. It took a Wookiee to remind us that the people behind Star Wars, including Harrison Ford, Carrie Fisher and Mark Hamill, are just human beings, after all.
In particular, Mayhew's obvious affection for Fisher is on display. In one photo, Fisher plants a playful kiss on Chewbacca and the actress is never without a smile in the snapshots. In a picture that sent older fan-boys into near cardiac arrest, Fisher is seen sunning herself in the famous Princess Leia slave outfit, along with her identically dressed stunt double. The picture stands in stark contrast to Fisher's long-standing complaints about having to wear the costume.
Equally arresting are the pictures featuring a younger, jovial Ford. It's been a long, long time since the erstwhile Han Solo was willing to let his guard down, but Mayhew's shots of Ford flashing the lopsided grin that made him famous help remind us why he became a superstar apart from Star Wars.
There are also shots of the other hidden players in and out of costume, including Daniels in his C3PO costume trying to stay out of the hot Tunisian sun.
It's like looking at someone's family photo album, only populated with famous people and iconic characters. Seeing Mayhew's picture of Ford and Hamill just sitting on a couch in sweaters looks like it could've come from anybody's stash of pictures from 1979, which is the beauty of it. Unlike publicity photos or even ones taken by a set photographer, Mayhew's shots are really just his pictures of himself with some friends. The fact that it's all taking place on some of the most famous sets in the history of cinema is completely secondary.
Mayhew's original tweet before uploading the treasure trove of pictures said that he was "feeling nostalgic." The man behind Chewbacca was kind enough to share the trip down memory lane with Star Wars fans everywhere and in the process put a human face back on the sci-fi epic. Hopefully, writer-director J.J. Abrams remembers to do the same with the forthcoming Episode VII.