Disney Classic 'Pete's Dragon' Is Getting a Remake…By a Moody Indie Auteur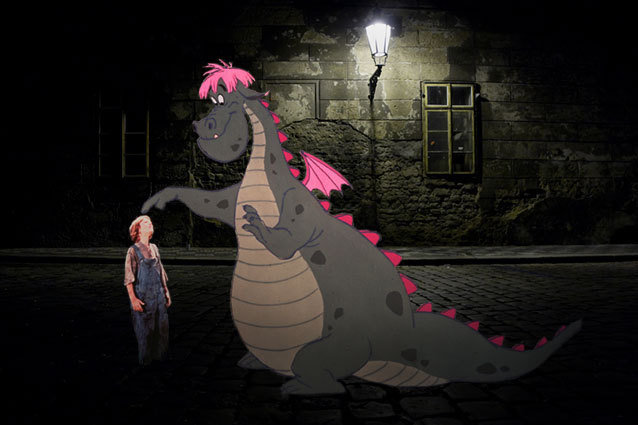 Most people who are nostalgic for Pete's Dragon probably weren't even alive in 1977 when this blend of live action and animation was released, but thanks to home video and constant reruns on the Disney Channel, the thing still has some of that "oh remember back then" quality. Now Disney is trying to cash in and is planning a remake of the flick about an orphan and his imaginary dragon — but it's not what you would expect. 
According to Deadline, the studio has tapped Ain't Them Bodies Saints writer/director David Lowery and his writing partner, Toby Halbrooks, to pen the script. Right now you're probably asking, "What the hell is Ain't Them Bodies Saints?" Good question! It was one of the hits of this year's Sundance Film Festival and will be released in August. It was Lowery's first feature after years as an editor. The funny thing is, it's a dark and brooding story about a bank robber (Casey Affleck) who breaks out of prison to rejoin his estranged wife (Rooney Mara). The whole thing is gorgeous and subtle and, well, the exact opposite of a half-animated movie musical about a boy and his dragon.
RELATED: 10 Surprising Movie Remakes
Maybe Disney is going for something a lot darker? Of course the movie will be different now that CGI will make the dragon much more real looking than the schlocky green blob of the original, which looked cheesy even when it was released, but that was the appeal of the movie. If Disney was just going for nostalgia points, sticking close to the original would be the easy bet. Are they aiming for something more like Pan's Labrynth and less like How to Train Your Dragon?
Guess we'll have to wait to find out, but this is a strange, but interesting choice. 
Follow Brian Moylan on Twitter @BrianJMoylan
[Photo Credit: Hollywood.com Illustration]
---
You Might Also Like:


15 Oscar-Winning Nude Scenes


Young Jack Black Is Totally Unrecognizable