'Pirates 5,' 'Captain America 2,' 'Muppets 2': Disney's Release Date Frenzy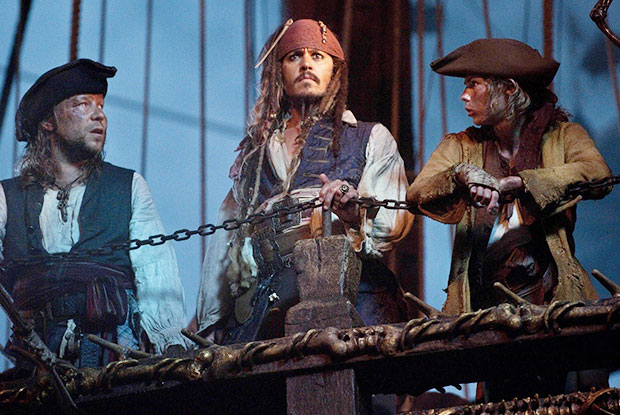 The house that Mouse built, Disney, is on a bit of a rampage when it comes to its upcoming release slate. So much so that the company's cinematic arm has announced a bevy of release dates for some of its most-anticipated upcoming films. Mondays
But it's not all new news, either: some of the movies are completing a rousing rendition of the Release Date Shuffle. The films getting new wide dates are Pirates Of The Caribbean 5, with a new release date of July 10, 2015. The hotly-anticipated, Tina Fey-fronted The Muppets 2 will roll into theaters on March 21, 2014, and the what-the-heck-is-this-movie, no-seriously-what-is-it-all-about-project from Damon Lindelof and director Brad Bird titled 1952 got a new date of December 19, 2014 — just enough time for George Clooney to get acclimated to the 3D world in which this film will be shot.
Unfortunately for those looking for a more old-school Disney film experience, they'll have to wait a little bit longer. The Little Mermaid, purported to be the next film from the Disney vaults to get a 3D re-release ala The Lion King and Finding Nemo, has been removed from the schedule. It had been slated for a September 13, 2013 release.
Check out our full breakdown of the cinematic proceedings, below:
The Muppets 2
Release Date: March 21, 2014Film will star Ricky Gervais, Ty Burrell, and Tina Fey. It will be produced by Todd Lieberman and David Hoberman, with James Bobin at the helm. Returning to scripting duties is Nick Stoller alongside Bobin.
Captain America: The Winter Soldier
Release Date: April 14, 2014The Marvel feature will be available in 3D.Film will star Chris Evans. Directed by the brothers Anthony and Joe Russo, the story will pick up where The Avengers left off: with Steve Rogers struggling to accept the modern world and his place within it.
Maleficent
Release Date: July 2, 2014 (originally: March 14, 2014).Film stars Angelina Jolie in the title role, as well supporting players Sharlto Copley, Elle Fanning, Sam Riley, Imelda Staunton, Miranda Richardson, Juno Temple and Lesley Manville. It will be released in 3D and is produced by Joe Roth, directed by Robert Stromberg, and written by Linda Woolverton.Film is said to be a bit of an origin story about the Disney villainess from the 1959 animated classic, Sleeping Beauty.
Guardians of the Galaxy
Release Date: August 1, 20143D film is a Marvel feature about a futuristic team of superheroes tasked with protecting the galaxy from danger, will be voiced by a cavalcade of characters, and directed by James Gunn.
1952
Release Date: December 19, 2014The highly-secretive film will star George Clooney, with direction from Brad Bird, and a script/producer in Damon Lindelof.
Pirates of the Caribbean 5
Release Date: July 10, 2015Film stars Johnny Depp as Captain Jack Sparrow. It will be produced by Jerry Bruckheimer and written by Jeff Nathanson.
Looking forward to any of these films? Let us know in the comments!
[Photo Credit: Walt Disney]
Follow Alicia on Twitter @alicialutes
More:
'Anchorman 2' Gets Release Date: 12 Ways to Prepare for Ron Burgundy's Second Coming
'Les Miserables', 'I, Frankenstein' and the Release Date Shuffle
Release Date Shuffle: Matt Damon Sci-Fi 'Elysium' Bumps 'Robocop' to 2014

Megan Fox's 12 Hottest Moments (Moviefone)