Pixar Teams Up With The 'Muppet' Movie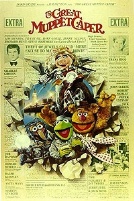 Members of the Pixar "brain trust" have agreed to help out parent corporation Disney with their new live-action Muppet movie. Principal members of the Muppet movie, which stars Forgetting Sarah Marshall puppet extraordinaire Jason Segel, were flown to Pixar headquarters in northern California for a table read with the animation experts.
Pixar's brain trust, which includes filmmakers John Lasseter, Brad Bird, Pete Docter, Andrew Stanton, Michael Arndt, Bob Peterson and president Ed Catmull, has been responsible for the studio's perfect record: producing 11 consecutive commercial hits and critical successes. While Pixar had been kept separate from Disney in prior years, Disney has recently begun to tap into the storytelling team's potential by consulting them for story advice, such as before starting reshoots of their live-action computer adventure Tron Legacy.
Disney, whose recent releases When in Rome, The Last Song, Prince of Persia: The Sands of Time and The Sorcerer's Apprentice have been short on critical and commercial success, seem to be poised to adopt a more Pixar-like production schedule, or to at least take advantage of Pixar's storytelling success. Pixar has long relied on peer feedback to produce their films. President Ed Catmull described the process: "Every two or three months, they present 'the film' to the other filmmakers, and they will tear the film apart. And it's very important for that dynamic to work because it could be a brutal process; there needs to be the feeling they are all helping each other who wants that help."
Disney is wise to start taking advantage of Pixar, who have proven their mastery of storytelling basics time and time again. And it certainly won't be a one-sided arraignment, since much of the Pixar crew (especially Up director Pete Docter) are long-time muppet fans. Basically, this seems like a best-case scenario for everyone involved.
The new Muppet movie, directed by Flight Of The Conchords' James Bobin, is due out December 2011.
Source: THR