Should He Have Stuck to Singing? Find Out With This Ranking of Justin Timberlake's Movies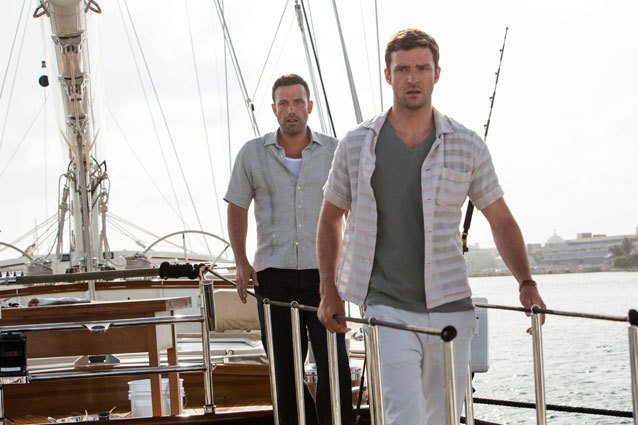 Justin Timberlake's newest movie, Runner Runner, is in theaters now, and even though it boasts big names like Ben Affleck, it's not winning over the critics or audiences. Timberlake plays Richie, a Princeston student who plays online poker to pay for his tuition and gets swindled by an online gambling boss (Affleck), who later takes Richie under his wing. Timberlake's latest inspired us to take a look back at his entire movie career, so we did just that and ranked his most notable movies from best to…not so great.
The Social Network
Not only did The Social Network win several Academy Awards, but it almost earned Timberlake an Oscar nod for best supporting actor. Now that is impressive. Timberlake's portrayal of Napster founder Sean Parker is arguably the best of his career.
Inside Llewyn Davis
You know you've made it when you're cast in a Coen brothers movie. In this one, Timberlake plays a musician and performs covers of classic folk songs live for the film.
Friends With Benefits
This movie came out around the same time as No Strings Attached, which basically had the same premise, but Timberlake's film was by far the superior of the two. He and Mila Kunis have palpable chemistry and a very natural rapport. The movie's real magic, however, lies in its postmodern mocking of the rom-com genre.
Black Snake Moan
Still starting out in his career, Timberlake played a minor role in this 2006 drama, but anytime he was on screen, his presence was overshadowed by another actor. Even when sharing the frame with little-known actor Michael Raymond-James, James clearly has more weight as an actor than the pop singer.
Alpha Dog
Though he stood out as a goofy supporting friend character, the movie is one of the most painful to watch in recent memory.
Trouble With the Curve
Not even Clint Eastwood and Amy Adams can save this snoozefest. It sort of makes you wonder if Timberlake only signed on because Eastwood's name was attached.
Bad Teacher
Cameron Diaz is hilarious as the teacher who smokes pot in front of her students and cares more about finding a rich husband than teaching, while Timberlake is the weakest link in a solid cast of comedians that also includes Jason Segel and Lucy Punch.
In Time
This wannabe sci-fi dystopia flick, about a future world that uses time as currency, looks slick, but the plot is ludicrous and poorly executed. Timberlake especially falls flat in his first major action role.
Runner Runner
It just so happens that Timberlake's latest movie is his worst. His acting in the thriller may have improved marginally — he's doing the obvious head turns and concerned face less — but the movie fails to engage the audience with the subject matter.