5 Reasons Why 'The Lazarus Effect' is the Perfect Date Night Movie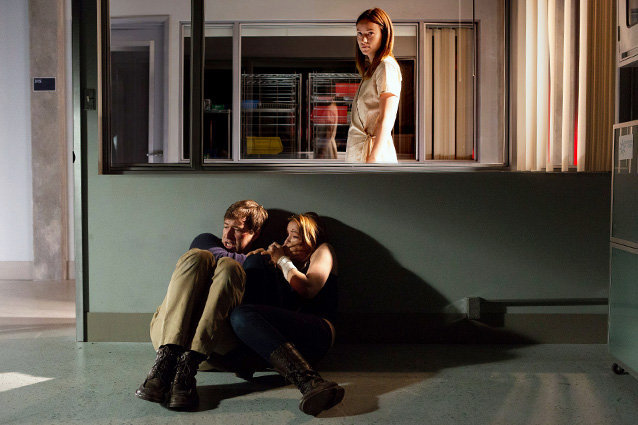 Relativity Media via Everett Collection
Friday night means date night and we've got the movie to watch.  The Lazarus Effect  is a movie about a group of medical students who discover a way to bring dead patients back to life. Freaky!
The Lazarus Effect follows a group of researchers led by Frank (Mark Duplass) and his fiancée Zoe (Olivia Wilde,) who've achieved the unimaginable- bringing the dead back to life.  After a successful, yet unsanctioned, trial on a newly deceased animal, the team is ready to unveil their breakthrough to the world. When the dean of their university learns of their underground experiments, their project is unexpectedly shut down and their materials confiscated.
 
Frank, Zoe and their team (Donald Glover, Sarah Bolger and Evan Peters) take matters into their own hands, launching a rogue attempt to recreate their experiment, during which things go terribly wrong and one of their own, Zoe, is horrifically killed. Fueled by terror and grief, Frank pushes them to do the unthinkable: attempt to resurrect their first human test subject.
 
Initially, the procedure appears a success, but the team soon realizes something is wrong with Zoe. They are no longer faced with the question of whether they can bring someone back to life- but rather, the wrath of her return.  #EvilWillRise
1. Olivia Wilde kills it as the newest horror movie babe:
Relativity/thelazaruseffect.tumblr.com
2. The cast is a stellar group of actors who can all master being serious and funny (oh, and terrified out of their minds):
Relativity/thelazaruseffect.tumblr.com
3. It's not an overused plot of demons/zombies/etc. It's something newer and exciting:
Relativity/thelazaruseffect.tumblr.com
4. It will scare the pants right off of you:
Relativity/thelazaruseffect.tumblr.com
5. And obviously, Evan Peters is the hunkiest date for a date night movie:
Relativity/thelazaruseffect.tumblr.com
To add onto the perfect date night, we've got a giveaway to match – here's how to enter:
2. RT
RT & Follow us for a chance to win a gift card & movie merchandise for the #LazarusEffectGiveaway #EvilWillRise http://t.co/hhr2KYbxox

— HOLLYWOOD.COM (@Hollywood_com) February 26, 2015
This prize packs includes:
– $25 gift card
– Hoodie
– Flashlight
– Syringe Pen
– Mini Poster
The Lazarus Effect is in theaters Friday February 27, 2015. Only one winner will be chosen. You must be a U.S. resident to enter. This prize pack's approximate value is $50.00.