10 Reasons We're Excited for Diagon Alley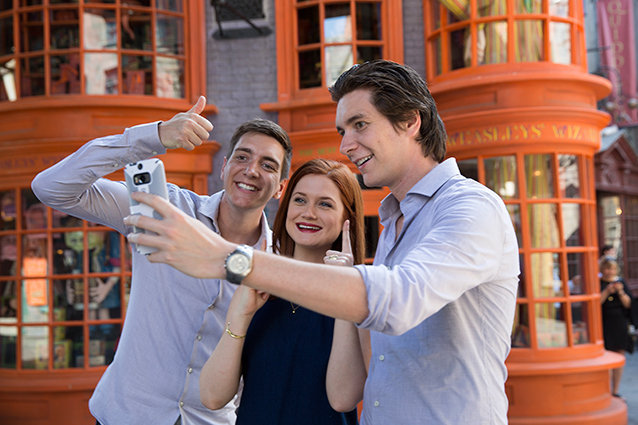 Getty Images/Universal Orlando Resort
Can you believe The Wizarding World of Harry Potter's Diagon Alley will be open to the public today? When Harry Potter's stars (with a few notable exceptions, ahem, Dan, Rupert and Emma) made an appearance at the Diagon Alley Preview a few weeks ago, it felt like it would be forever — but now the day is nigh!
As you can see, we're having a bit of trouble containing our excitement… and here are a few reasons why:
10. Remember that awesome scene from the seventh book/eighth movie when Harry, Ron and Hermione (and Griphook) break into the infamously impregnable Gringotts? Well, now it's a ride!
9. Also, according to Evanna Lynch, the dragon at Gringotts "is even more true to life than the movie sets!"
8. There's a real-life Florean Fortescue's, and they serve butterbeer soft serve!
7. You can cast spells.
6. You can grab English-style pub grub at The Leaky Cauldron!
5. You can also visit Borgin and Burke's in Knockturn Alley, if you're so inclined.
4. Three words: Weasley's Wizard Wheezes.
3. Yeah, it exists, and apparently you can buy Pygmy Puffs there.
2. You can finally go to Ollivanders… and wait for the wand to choose you.
1. Also, Eyelop's Owl Emporium — you know you always wanted a Hedwig of your own.