'Red Dawn': Chris Hemsworth Leads the Varsity Machine Gun Team — EXCLUSIVE VIDEO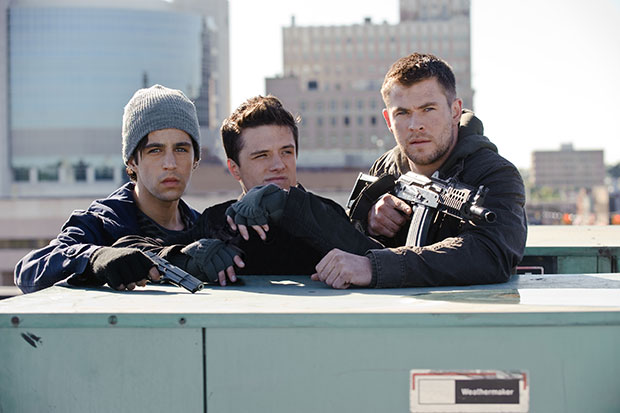 Thanksgiving: a time for families and friends to gather and remember all the things that are going right in the world. No matter how bad things get, they could be worse.
Example: theoretically, America could be invaded by enemy troops, we could be forced to form ragtag militias, and we could have to blast our way to safety. See? Much worse.
The upcoming Red Dawn plays out that "What if?" scenario in all its terrifying glory. Starring Chris Hemsworth, Josh Peck, Josh Hutcherson, Adrianne Palicki, Isabel Lucas, and Connor Cruise, the film follows a group of high schoolers forced to pick up firearms and organize war efforts on the streets of their small town. And it doesn't even count for elective credit.
In time for the gratitude-filled holiday, Hollywood.com is happy to debut an exclusive TV spot for the movie, which highlights the explosive action, and talented young ensemble. Give thanks you don't have to be in the heat of battle, and check out the video below. You can buy tickets for Red Dawn now over at MovieTickets.com!
Follow Matt Patches on Twitter @misterpatches
[Photo Credit: Film District]
More:
'Red Dawn': Chris Hemsworth Won't Let His Home Town Explode — TRAILER
'Red Dawn': Chris Hemsworth and Josh Hutcherson Are the New Wolverines — PICS
From Our Partners:

New Bin Laden Movie: Oscar-Bound?
(Moviefone)

(Moviefone)