INTERVIEW: Michael Bay, Coen Brothers and Reese Witherspoon Were In Line for 'Showgirls 2' Sleazquel, Rena Riffel Reveals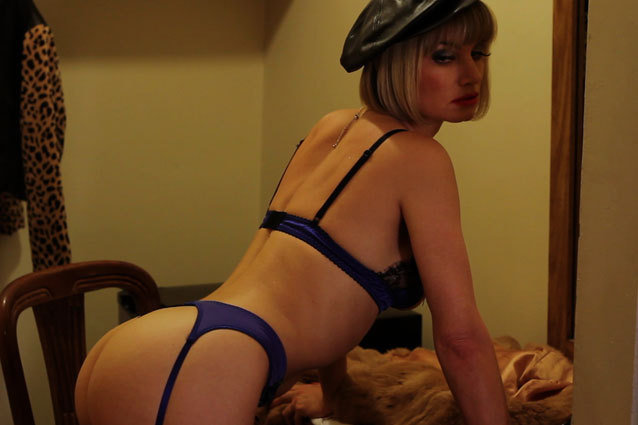 Rena Riffel Films
At last, Showgirls 2: Penny's From Heaven is out on the guilty pleasure-friendly format: DVD. (While original Razzie favorite Showgirls belly-flopped on the big screen, it's still one of the highest grossing DVDs of all time).
Rena Riffel, star of Showgirls and Mulholland Drive turned camp icon, has been pulling the g-strings on her directorial oeuvre since the original wrapped back in '94 and is celebrating the release this week.
We spoke to her about the movie's journey from Michael Bay blockbuster to DIY erotic 'trashterpiece' for this Hollywood.com exclusive.
Hi Rena, thanks for talking to Hollywood.com. So, why do you think Penny/Hope – your character in Showgirls and the star of your sequel – resonated so much with fans?
She means well and wants to succeed, but everyone just thinks she's a dum-dum. She's like the underdog we can cheer her on to make it to the pot of gold at the end of the rainbow. She's kind of Marilyn Monroe in Gentleman Prefer Blondes or Some Like It Hot: very innocent, but she's like a piece of meat in a lair of wolves.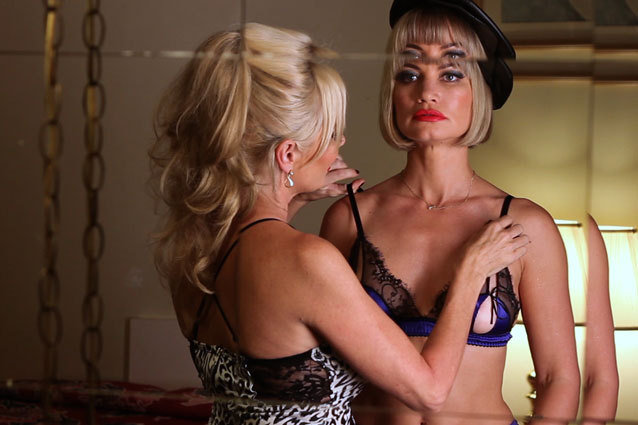 Rena Riffel Films
What's the AA-cup version of the movie storyline?
Penny Slot drops everything and hitchhikes down the road to her dream of finally being a famous dancer on TV show Star Dancer. She finds herself in danger, running from the law and ultimately has a near-death experience.
This sequel's been in the pipeline for a long time – can you run us through its odyssey briefly?
In my late thirties, I realized I was getting too old to play myself – so I better do this now! I wrote for a year, for 12 hours a day. I wrote 28 very different drafts. I had people contact me, but nothing worked out. I went through some unfortunate drama and turmoil.  On a good note, I sent my script to Paul Verhoeven [who directed the original] who said he liked it very much and gave me his blessing.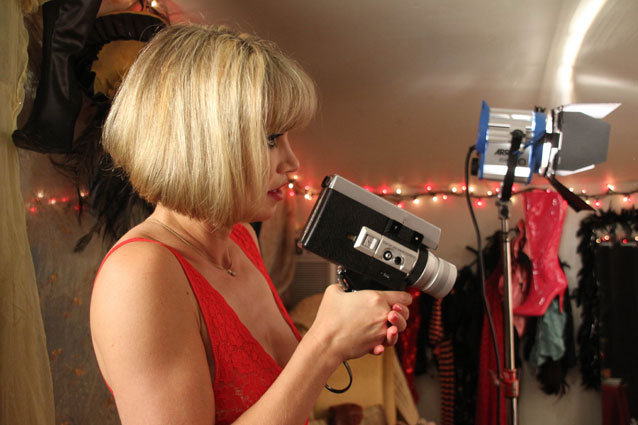 Rena Riffel Films
I was trying to raise millions of dollars, but towards the end of the uphill battle, I settled on going for a lower budget of 8 million. They read my script and did the Hollywood thing: "Reese Witherspoon will play Penny, they will bring in a big director like Michael Bay, and hire a big writer (the Coen Brothers) to come on board," and I said, "Wait a second, then what would I do?" So, that's when I just threw in the towel and decided to make it the way I made Trasharella. All by myself, with the help of friends.
Showgirls is still in the top highest-grossing MGM DVDs of all time. Are you expecting similar wildfire sales?
I wish!  It will be interesting to see how this turns out. If it doesn't make money, it's not like I'm 100 million in debt on it!
You've referred to this project as 'pulling a Barbra' – please elaborate?
Showgirls 2: Penny's From Heaven is my Yentl (which was nominated for Oscars AND Razzies).  Yentl was Barbra's directorial debut, but it took 15 years for her to get it made.  She also dealt with everyone thinking she was too old to play the lead role.
The critics had a field day with Showgirls, but it's won some high-profile fans since. What's your dream review for this?
I guess it would be like, "Showgirls 2 is perfect imperfection. A job well done by Director/ Writer/ Producer/ Editor/ Dancer/ Craft Service/ Key Grip and star, Miss Riffel. Two "thumbs" up, all "stars" clicked, we "like" buttoned it, etc.!"
More:
Hot For Teacher: Hollywood's Hottest Educators
'Showgirls 2': Sneak Peek LA Screener
Rena Riffel Promotes 'Trasharella' In Long Beach
---
From Our Partners:


40 Most Revealing See-Through Red Carpet Looks (Vh1)


15 Stars Share Secrets of their Sex Lives (Celebuzz)