Robert Pattinson: 'The Twilight Saga: Breaking Dawn Part 2' Sex Scene Is "Ridiculous"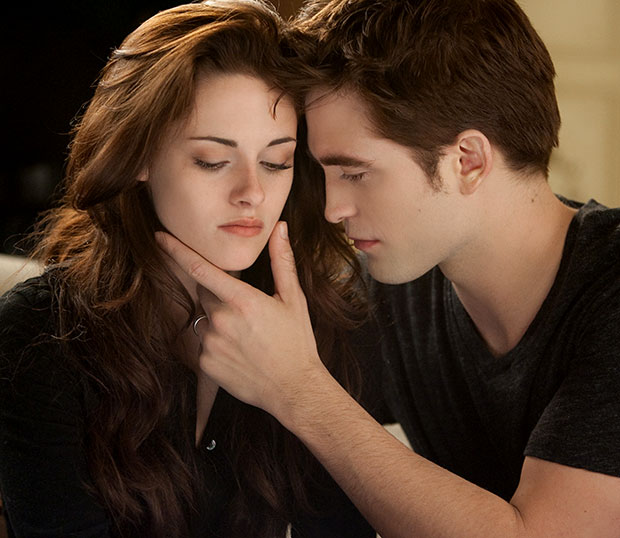 Calling all Twihards: if you just can't wait until the midnight release of The Twilight Saga: Breaking Dawn Part 2 on Nov. 16, have we got a treat for you. Check out the just released "Final Chapter" two-minute featurette on the finale below:
This extended preview includes scenes and footage in the highly anticipated flick, plus exclusive interviews with director Bill Condon and stars Kristen Stewart, Robert Pattinson, Ashley Greene, and Taylor Lautner.
Something you won't find the stars talking about in the featurette? The sex scene between new-vampire Bella and her husband Edward. Don't you worry, Pattinson dished on the "ridiculous" sex scene in an interview on the Australian talk show Kyle and Jackie O.
"The sex scene in this one is pretty ridiculous," Pattinson said. "It's just because you're kind of shooting stuff to be PG-13. It's just that you're trying to think of inventive ways to make something sexy. It can't just be a normal sex scene. It's supposed to be about like the greatest vampire sex you've ever had. A lot of it was just close ups on me and Kristen's faces."
Pattinson also touches on how actually filming the movies and promoting them feel like two entirely different jobs since Twilight isn't just a movie, it's a culture, the movie that made him cry, his Starbucks order and more.
The Twilight Saga: Breaking Dawn Part 2 hits theaters Nov. 16.
Follow Sydney on Twitter @SydneyBucksbaum
[Photo Credit: Summit Entertainment]
More:
Final 'The Twilight Saga: Breaking Dawn – Part 2' Poster Is Immortal
'Twilight' in Full Swing: 'Breaking Dawn – Part 2' Advance Ticket Sales Top 'Part 1'
Robert Pattinson Alert! 'Twilight' Star to Play Lawrence of Arabia
From Our Partners: