Turning Stallone's Best 'Rocky' Moments into Broadway Musical Numbers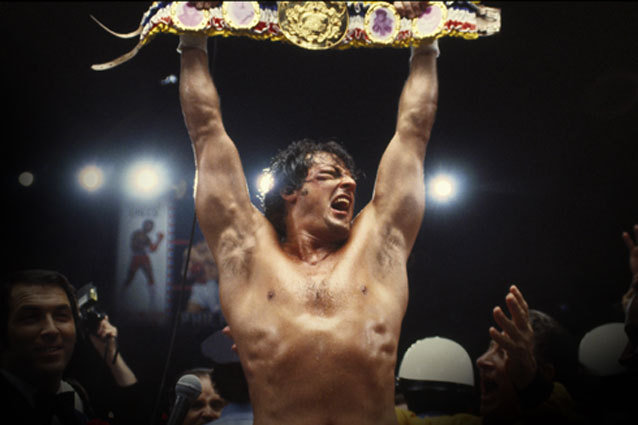 When asked why he chose the path of boxing, Rocky Balboa offered a simple, though rather elegant, explanation: "Because I can't sing or dance." Now imagine if he could, and you'll get a pretty good idea of what's in store: a Rocky musical, the latest film adaptation to be mounted for Broadway. The Hollywood Reporter shares that a team of Alex Timbers (director), Thomas Meehan (writer), Stephen Flaherty (composer), and Lynn Ahrens (lyricist) will be transforming Sylvester Stallone's Oscar winning picture into a song-laden stage production; Stallone himself weighed in on the forthcoming project:
"I couldn't be more proud or more excited about this production and how my original story of Rocky Balboa has been brought to spectacular life onstage," Stallone told THR. "Alex Timbers and the entire creative team … have made [the character's] story as exciting, heart-breaking, and inspiring as it was when Rocky first went the distance onscreen."
It was 1976 when Stallone brought his now iconic character to Hollywood for the first of six (so far) times. The Best Picture victor, among the most beloved of sports films, is so full of memorable lines, scenes, and emotional instances, that it'll be quite the endeavor to turn the lot of them into musical numbers. So which Rocky's thick-tongued slurs, Adrian's squawking admonitions, Paulie's crass cackles, or Mickey's endearing insults will earn their own showstoppers? Here's one example already:
"The Italian Stallion"
An upbeat overture, introducing the audience to its lovable hero: Rocky Balboa.
"Be a Thinker, Not a Stinker"
Apollo Creed's Gilbert & Sullivan style romp about the merits in education trumping the glory in athletic stardom.
"Eat Lightning, Crap Thunder"
The first powerhouse number of the play: a fired up Mickey puts Rocky through the wringer with this operatic call to arms.
"Ya Don't Have to Kiss Me Back"
To follow, a softer entry: Rocky professing his affection for leading lady Adrian, offering the chance to refuse his courtship in this duet. 
"Eat the Bird"
Perhaps the emotional crux of the film, Paulie's vigilant ballad, directed toward his sister Adrian in a moment so wrathful, it'll warrant a therapeutic intermission immediately afterward.
"I Ain't No Bum"
The tenderness hits a peak when Rocky channels all of the pain he has felt over his modest intellect and poor choices, declaring to the audience that he has more to him than everyone thinks.
"A Damn Monster Movie"
At last, the real showstopper! The showdown between Rocky and Apollo Creed, an orchestrated song pitting the two against one another in the ring. Whole lotta dancin'. 
"A Couple of Coconuts"
Finally, following the big match, we reunite Rocky with Adrian, allowing him the happy ending of his true love's embrace.
Fill in the gaps with your own suggestions!
Follow Michael Arbeiter on Twitter @MichaelArbeiter
More:
Andrew Lloyd Webber Planning a 'School of Rock' Musical
Duncan Sheik Wrote a 'Because of Winn Dixie' Musical
What Songs Will Make Up the Elton John Biopic Musical?
---
From Our Partners:


Eva Longoria Bikinis on Spring Break (Celebuzz)


33 Child Stars: Where Are They Now? (Celebuzz)