Romance and Body Snatchers: 10 New Pics from 'The Host' — EXCLUSIVE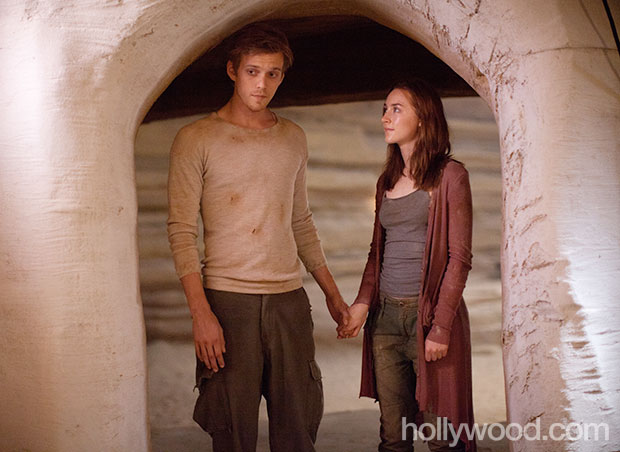 With the Twilight franchise behind us, fans of Stephenie Meyer's unique blend of genre tropes and romance stories are waiting patiently for their hunger to be fed by the author's next big adaptation: The Host. From director Andrew Niccol (Gattaca, In Time), the sci-fi tale takes place in a world invaded by a parasitic alien race known as "Souls." One teenage girl, Melanie Stryder (Saoirse Ronan), doesn't take the mental overtaking lightly. Instead of succumbing to her extraterrestrial visitor (a Soul named "Wanderer"), she fights back mentally, flooding their shared consciousness with her memories and creating a bond between the two. Together, they set off on a mission to track down Melanie's missing family (while outrunning more nefarious Souls aka The Seekers).
We got our first taste of The Host at Comic-Con and in the first trailer for the film. Now, we have an even broader look at the action in store when the movie eventually hits theaters in March. Courtesy of Little, Brown's The Host: The Official Illustrated Movie Companion, Hollywood.com is exclusively premiering 10 new images including new looks at Ronan as Melanie/Wanderer, Ian (Jake Abel), Kyle (Boyd Holbrook), Jared (Max Irons), brother/sister pair Jeb (William Hurt) and Maggie (Frances Fisher), and some nasty looking Seekers.
The footage from Comic-Con offered bigger scale action than anything served up in Twilight and our handful of new images make good on the promise with glimpses at fight scenes and major stunts. Don't worry: there's plenty of romance too. Check out the images from the Illustrated Movie Companion (available now and stuffed with even more pics) and watch for The Host when it arrives on March 29, 2013.