Cannes: Ryan Gosling Only Has 17 Lines in the Bloody 'Only God Forgives'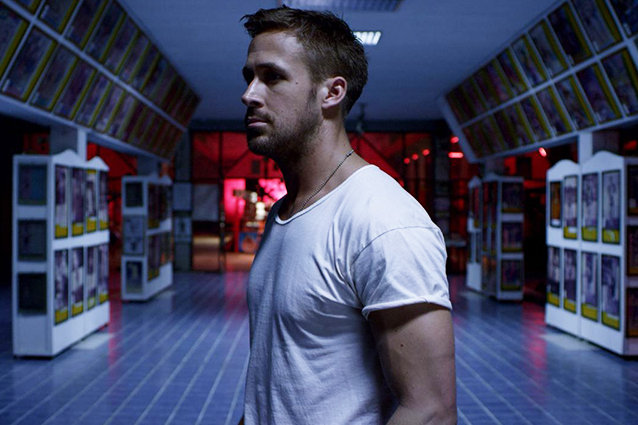 Philosophical pondering: if your movie stars Ryan Gosling, can it also be considered an art film?
Nicolas Winding Refn (Drive) makes a compelling case for "hell yes" in his latest Only God Forgives, a slow-burning exploitation film that sends Gosling to Thailand to stir up trouble. He plays Julian, a boxing ring owner seeking revenge against a corrupt cop (Vithaya Pansringarm) who had his brother killed. Pushed by his Cruella de Vil-type mother Crystal (Kristen Scott Thomas), Julian strolls through the underbelly of Bangkok to hunt down the cop and kick his ass. 
The ass kicking doesn't go smoothly. If you've seen the posters for Only God Forgives, you know Gosling's face ends up quite busted. It got that way from the character's first encounter with the cop, a ferocious fight scene set in an arena of glowing red and yellow. Refn has always embraced brutality and once again puts his leading man through the ringer. 
Outside of the sporadically violent moments — where men cut each other in two and gun themselves down in a fashion that would make John Woo smile — Only God Forgives is a hushed meditation on the awful potential of human instinct. Refn floats through the spectrum of color that drowns Bangkok, relying on slow motion and Gosling's good looks to carry the weight of the movie. It's the definition of a "mood piece." Refn wants us to feel the light, feel the atmosphere, feel the piercing glance of Gosling, and feel the pulsation of composer Cliff Martinez's score. Martinez's work is so essential to the film, it feels as if Refn crafted a movie around the Vangelis-esque soundscape. Like in Drive, the soundtrack's character is the best performance in the film.
Depending on your tolerance for gratuitous violence and dreamy meandering, Only God Forgives doesn't offer much in the way of plot or vibrant performances. Gosling — while impressive in his big fight scene — is an observer with only 17 lines (with classics like: "Go."). Thomas is, thankfully, in an entirely different movie, an extravagant character who delivers sultry energy to the somber picture with moments of comedy that sting. The men of Only God Forgives rip each other to shreds scene after scene, but it's Thomas who delivers the strongest punch.
Teasing a narrative is Only God Forgives' biggest fault. We see a few scarce details of who Julian is, what he's gone through, and why he's ended up in Bangkok. Yet these are not important. Prioritized are the mesmerizing affects of locking eyes with a beauty or the dread that builds as an assailant slowly pins a person with sharp objects, one limb at a time. The movie has tunnel vision, and while it occasionally breaks — there's a cheeky recurring gag of the cop singing karaoke — that sense of humor and personality never round out Only God Forgives. Instead, Gosling is given his 17 lines and the camera starts rolling. If there were subtext underneath the silence, the brevity may have worked.
Only God Forgives arrives in the U.S. on July 19.
Follow Matt Patches on Twitter @misterpatches | Follow Matt Patches on Twitter @Hollywood_com
More:
See the First 'Only God Forgives' Trailer
Ryan Gosling Got Himself Beat Up
Ryan Gosling Won't Eat His Cereal (the Best Meme Ever)
---
From Our Partners


Stars Pose Naked for 'Allure' (Celebuzz)


Which Game of Thrones Actor Looks Least Like His Character? (Vulture)