5 Things You Didn't Know About J.D. Salinger
A continued source of intrigue and fascination, J.D. Salinger died in 2010 at the age of 91. The author is now the subject of a revealing new documentary, Salinger, by director Shane Salerno, who is also the co-author with David Shields of a 700-page biography, published today by Simon & Schuster, also titled Salinger. Little is still known about the author of The Catcher In The Rye's personal life (despite that he harbored an undying love for the word "phony"), and Salinger spent the last 60 years of his life keeping it that way, until now! Here are five facts you might not have already known about the world's most famous literary recluse.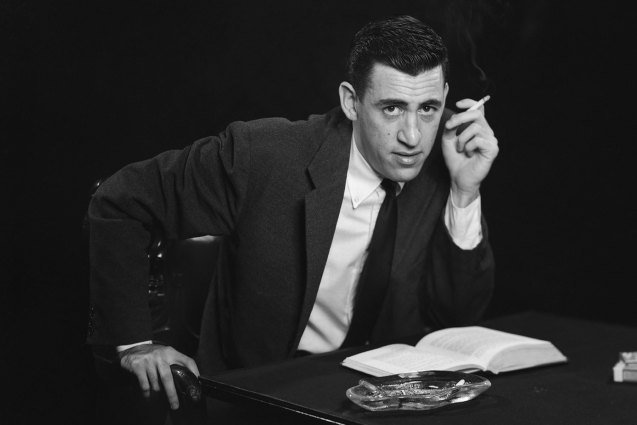 Hulton Archive Collection/Getty Images
He Dated Eugene O'Neill's Daughter
Salinger fell madly in love with Oona O'Neill, who was 16 when they began dating in 1941, often writing her long, obsessive love letters and calling her at all hours of the day. The relationship never worked out, and Oona eventually married Charlie Chaplin. Salinger, however, who was in his early 20s at the time of their courtship, never stopped lusting over teenage girls. At the age of 53, he began a hot and heavy relationship with an 18-year-old aspiring writer named Joyce Maynard.
He Went Hollywood
Although he famously refused to authorize film adaptations of his most famous work, back when he was a young struggling writer Salinger sold the film rights to an early short story called "Uncle Wiggily in Connecticut," which became 1949's My Foolish Heart. Perhaps as a sign of what was to come, Salinger later called the film a "bastardization."
He Knew Ernest Hemingway
The young author struck up a friendship with the literary icon as a soldier during the Second World War. Hemingway was working as a war correspondent at the time and upon their initial meeting, referred to Salinger as "a helluva talent." 
He Practiced Scientology
A devoted spiritualist throughout most of his adult life, Salinger even tired Dianetics, the precursor to Scientology. He quickly became suspicious of the new religion, however, and eventually abandoned it altogether. Still, he does have the esteemed privilege of being the first celebrity scientologist!
He Was Still Writing
Although long rumored (yet never confirmed) that he was working on new material during his decades-long seclusion in the woods of New Hampshire, the new Salinger documentary claims that the author left detailed instructions for new works of fiction to be published as early as 2015. One of the new works is said to include several new stories that will add further depth into the life of the Glass family, whose members reappear throughout Salinger's fiction, particularly his later stories.
More:
Why Ben Affleck Is Better Behind the Camera
5 Career Suicide Movie Roles
Ben Stiller Is Walking on Sunshine in a New 'The Secret of Walter Mitty' Poster
---
From Our Partners:


40 Most Revealing See-Through Red Carpet Looks (Vh1)


15 Stars Share Secrets of their Sex Lives (Celebuzz)