Sam Jackson Is Star-Struck Over De Niro in Exclusive 'Jackie Brown' Blu-ray Clip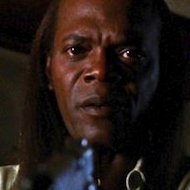 Quentin Tarantino's Jackie Brown may not have the same lasting legacy as his previous film Pulp Fiction—but even a less popular Tarantino is still a great movie.
Thank Samuel L. Jackson's unique screen presence. The actor who worked with the pop culture-minded director on both films (and followed them up with cameos in Kill Bill and Inglorious Basterds) and, it's fair to say, made a lasting impression audiences. Jackson is one of cinema's quintessential badasses, a man who can pack any bit of dialogue with a dozen one-two punches. When he's slinging Tarantino's zippy words, he's even more deadly. The man is a legend.
But being the grandmaster of swear words and intimidating eye gestures doesn't mean Jackon's not susceptible to the occasional awestruck moment. In this exclusive clip, a cut bit of interview from the upcoming Jackie Brown Blu-ray special features (meaning you can only see it here on Hollywood.com!), Jackson spills on working with another star with a legacy of cinematic excellence: Robert De Niro. The genuine excitement in Jackson's face when he recounts playing off of De Niro is priceless.
Check out the clip below and look out for the Jackie Brown Blu-ray (along with the Pulp Fiction Blu) when it hits shelves October 4.
="font-style:>