Sam Mendes Won't Follow 'Skyfall' with 'Bond 24' — Here Are 6 Directors Who Should Step In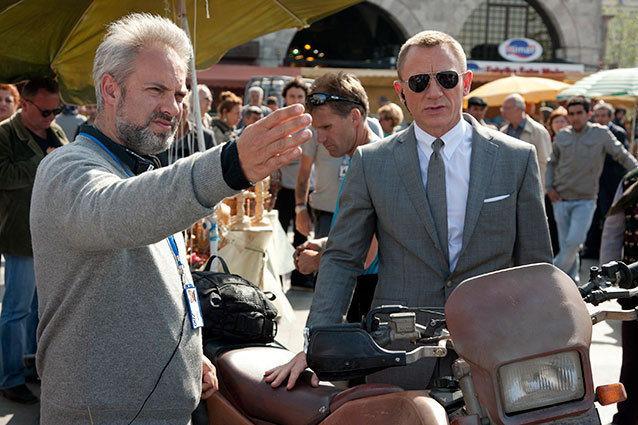 When Hollywood.com visited the set of Skyfall in May of 2012, director Sam Mendes described his vision with excitement and trepidation. With a filmography comprised of mostly smaller, character-driven films, it was the first time the American Beauty director would step up to do a full-blown action movie. And in a franchise he loved: Mendes gushed over Bond like any die hard fan would. As we learned when the movie arrived in theaters later last year, he was exactly what the franchise needed. Skyfall amounted to one of the best 007 missions in the character's history.
After Skyfall's mega-success — the movie took over $1.1 billion worldwide and is now the seventh highest grossing film of all time — many believed producers Barbara Broccoli and Michael G. Wilson would woo Mendes back for a second round. With screenwriter John Logan reportedly returning to pen the next entry, a second go for the Skyfall director became more and more of a possibility. But in a bittersweet move, it now appears that Mendes will put Bond aside to pursue other projects.
RELATED: The Ending of 'Skyfall' and the Series Future — Spoilers
"It has been a very difficult decision not to accept Michael and Barbara's very generous offer to direct the next Bond movie," Mendes explains to Empire Magazine."Directing Skyfall was one of the best experiences of my professional life, but I have theatre and other commitments, including productions of Charlie And The Chocolate Factory and King Lear, that need my complete focus over the next year and beyond."
Like many previous Bond directors, Mendes made sure to keep the door open for his possible return to the series ("[I] very much hope I have a chance to work with them again sometime in the future"), but Empire confirmed with Broccoli and Wilson that the search for a replacement is now very much on. Who will take the reins after Skyfall's critical and financial success? While many look straight to the blockbuster filmmakers who define the modern era — your Spielbergs, your Nolans, your Whedons — here are six of our suggestions of directors could hit the high bar set by Mendes, but in diverse new ways. Skyfall was brilliant, but the prospect of a fresh entry is unequivocally exciting.
Kathryn Bigelow
The Zero Dark Thirty director is at the top of her game after seeing two politically-driven films nominated for a wealth of Oscars, and more importantly, the raves of audiences across the globe. She's one of the most ferocious action directors working today and, while her recent work rips its ideas from the headlines, she has experience working with pulpier material (we can't be the only ones still watching Point Break on a monthly basis). Bigelow would effectively continue the realistic edge established by Skyfall, which used cyber-terror and the morality of spy work as a catalyst for its adventure.
Nicolas Winding Refn
When Daniel Craig stepped into the shoes of 007 for Casino Royale, director Martin Campbell took the stunts to even bigger heights. Mendes took the opposite approach: Skyfall has plenty of action, but it is intimate to claustrophobic levels. Drive director Refn has been eyeing up Hollywood blockbusters — he recently bowed out of a remake of Logan's Run starring regular collaborator Ryan Gosling — and he shares Mendes' sensibility for the small-scale. Drive isn't an action movie, it just feels like one. It doesn't shy away from the shocking, the twisted, or the grisly. We don't need an R-rated James Bond movie, but a director unafraid to challenge convention and character tropes is exactly what the series needs to do to keep itself on its toes.
RELATED: Why Isn't There a Female Equivalent of James Bond?
Tomas Alfredson
Alfredson's Tinker, Tailor, Soldier, Spy was a slow burn spy movie — maybe a bit too slow for its own good. But what it gets right is the terrifying prospect of being too deep, lost in a sea of facts, and the mind games that come with solving an internal mystery. As Bond continues to develop as a character (a new approach in the Craig-era), Alfredson could leverage Skyfall's momentum into a full-fledged "thinking man's" Bond movie. Imagine the snippy banter scene between Craig and Javier Bardem played out through an entire movie, tension bubbling over in every moment. That's what Alfredson would bring to the table.
Lynne Ramsey
If you saw We Need to Talk About Kevin, you know that Ramsey has an eye like few filmmakers working today. Like Mendes, she doesn't have many movies in her oeuvre that scream "Bond director." Yet Ramsey's skill set feels perfectly aligned with what a successful Bond director has to accomplish: take a specific scenario with a specific dramatic angle and let it blossom with a fury of imagery. One thing Broccoli and Wilson understand more than any producers working with major blockbusters today is the need for a vision. Not all major tentpoles need to look the same. Ramsey could prove that a sweeping action movie could also look like an artfully crafted indie.
RELATED: 'Skyfall' Stuntman Reveals How They Devised and Pulled Off the Movie's Big Set Pieces
Park Chan-wook
Speaking of artfully crafted, Park Chan-wook has made a career out bloody revenge films that speak to the darkest aspects of human nature. The Korean director has a modern classic under his belt, with the 2003 manga adaptation Oldboy, and his English debut Stoker (currently in theaters) is an exercise in mood and is incomparable to any American director's output. Having taken a uniquely British approach with Skyfall, a follow-up film has the opportunity to jump to the other end of the spectrum by capturing the essence of another part of world. Make Bond a fish out of water and use Park Chan-wook's sensibilities to do it. And a purely surface level reason: have you seen the hammer fight in Oldboy? Enough said.
Danny Boyle
After knocking a Bond short film produced for the 2012 Olympics out of the park, we already know Boyle (Slumdog Millionaire, 28 Days Later) is capable of energizing 007 with his signature kineticism. He has said in the past that he wouldn't want to direct a feature-length Bond movie, preferring low-budget movies that allow him to stretch his muscles than Hollywood blockbusters that are helmed by committee. But maybe Skyfallwill sway him. Bond is a franchise that demands a director's stamp. Boyle would press down hard and leave quite a colorful one.
Who would you pick as a director for the next Bond movie? Let your imagination run wild in the comments.
Follow Matt Patches on Twitter @misterpatches
[Photo Credit: Sony Pictures]
---
From Our Partners:


40 Most Revealing See-Through Red Carpet Looks (Vh1)


15 Stars Share Secrets of their Sex Lives (Celebuzz)