Friday at Comic-Con: Not Everyone Was Gruesomely Murdered On 'Hannibal'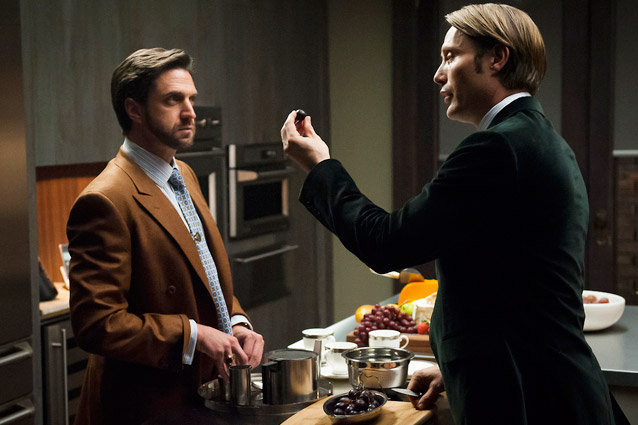 NBC
San Diego Comic-Con: the annual gathering of comic book nerds, blockbuster action movie fans and the slightly terrifying people who still watch Supernatural religiously. It's the biggest pop culture event of the year, a time when studios bring the biggest and most shriek-inducing stars together to unveil new projects and showcase the exciting things fans will eventually be camped out all night for. And even though not all of us are lucky enough to experience Comic-Con in person, that doesn't mean we don't deserve to get all the up-to-the-minute news, reports and surprises. Since we here at Hollywood.com don't want you to miss out on all the excitement happening in Hall H or the surprises being unveiled over the weekend, we're running down the biggest news to come out of San Diego during the convention to ensure you can stay on top of everything, whether you're stuck in the office or waiting in line for another sold out panel. 
Guess Who's Set For a Bloody Return
It's difficult to imagine anyone bouncing back from the tense bloodbath that capped off the second season of Hannibal, but Bryan Fuller doesn't want you to worry about the state of your favorite characters, because several of them made it out of there – although not all of them made it out alive. Deadline reports that Raul Esparza's Dr. Chilton did, however, and he will appear next season, presumably to get revenge for being shot in the face. Eddie Izzard and Kacey Rohl will also be making an appearance or two, but while he did say the former would only pop up in flashbacks, he declined to reveal whether Abigail is still in one piece. (The series also unveiled the second season blooper reel, which is exactly as delightful as you'd expect.)
Advanced Television Resurrection  
Now that Community's sixth season is under way, it's time to ask the most important question of all: When are the Greendale Seven coming back? At a panel Thursday night – appropriately titled "Communty: REBORN" – show runner Dan Harmon and the cast revealed that fans should see the Study Group back in action sometime after Christmas (via CinemaBlend). But don't call into work to binge watch just yet, as Yahoo! will be released episodes on a weekly basis, just the same as if it were still on NBC. Still, you can expect some changes thanks to the change in platform, as Harmon has said that the writers are interested in testing the limitations of their new format. (Although we know how well Abed does with change…)
Teen Wolf Howls On…
Teen Wolf might be in the middle of its fourth season at the moment, but the panel in Ballroom 20 only had eyes for the future, and with good reason: creator Jeff Davis revealed that the show already been renewed for a fifth season. According to EW, the upcoming season will also be the longest yet, with the episode count bumped up to 20 from season four's 12. Of course, it will run in two parts and your favorite characters will probably be killed, but nobody said living in Beacon Hills was easy.
Incredible Interstellar
After single-handedly revitalizing the Batman franchise and confusing people everywhere with Inception, Christopher Nolan finally made his Comic Con debut to talk about his upcoming film Interstellar, alongside Matthew McConaughey (via EW). Although they didn't reveal much about the movie, they did showcase a new trailer that gives a better look at the mysteries it contains (which, unfortunately, the rest of us won't get to see for a while), and Nolan revealed what inspired him to explore outer space. A little disappointingly, it was physics.
TMNT Needs Less Pizza, More Girl Power
At least, according to Megan Fox. The actress has been making the rounds at Comic Con to promote the film, which hits theaters in mid-August, and in an interview with HitFix, she revealed that her April O'Neill will kick a little less butt than she had hoped: "A lot of girl power ended up on the cutting room floor, unfortunately. I had a really awesome scene where I was fighting The Foot Clan, but I think they were like, 'Why would a tiny journalist be able to kick so much ass?'" Silly producers, we writers have plenty of pent up anger. Let the girl fight!