Sandler and Bieber duke it out!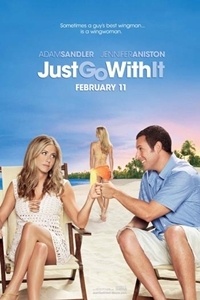 Since 1995's Billy Madison, Adam Sandler has been as consistent a box office draw as any star working today and the stats prove the point: 11 films that have earned over $100 million at the domestic box office, 11 films that have opened at number one, five films that opened at number two and a lifetime domestic theatrical revenue total of over $2 billion.  His relevance to audiences is clearly demonstrated by last year's Grown Ups which became Sandler's second highest grossing film domestically and the 14th highest grossing film of 2010 with $162 million.  12 of his films have been the result of a very fruitful collaboration with Sony Pictures and Just Go With It with a $31 million debut continues this success.  Beyond the traditional weekend, the film will also see a solid Monday gross with Valentine couples making a date with Adam Sandler and co-star Jennifer Aniston for some romantic comedy fun.
An astonishing $30.260 million weekend gross proves that Bieber fever is in full swing as the music and life of the teen music sensation is profiled in Justin Bieber: Never Say Never which had teen girls swooning in the aisles and older audiences gaining a new appreciation for the diminutive crooner who has seemingly come out of nowhere to become the next big thing.  Director Jon Chu is no stranger to the world of music having directed Step Up 2: The Streets and Step Up 3D and this documentary combines concert and behind-the-scenes footage in an attempt to provide insight into the meteoric rise of the charismatic performer.  Teen girls have proven to be a powerful force at the box office in the past and this weekend was no exception as they come out to support their teen idol and made him a movie star.
Continuing a rare G-rated 3-D match up, Disney's animated Gnomeo and Juliet with $25.5 million benefited from a dearth of family fare in the marketplace that has propelled Disney's Tangled and Warner Bros.' Yogi Bear to better-than-expected revenue totals.  With a G-rating, music by Elton John, the director of Shrek 2 at the helm and a cute 3-D riff on the Shakespeare classic Romeo and Juliet, this gnome stood tall in the weekend box office contest.
In a weekend filled with newcomers, The Eagle from Focus Features landed in just over 2,296 theatres and a weekend gross of $8.6 million.  The period costume adventure set in Roman-ruled Britain stars Dear John's Channing Tatum and puts him in a sandals and swords period piece drew fans of epics such as Gladiator, 300 and Clash of the Titans. 
Completing the top 5 line-up was last weekend's number one film Sony/Screen Gems The Roommate which banked $8.4 million for the Valentine's weekend.  Yet another profit-maker for Screen Gems, the film earned back its production budget in its first 3 days of release and has gathered a total domestic gross of $26 million through Sunday night.
The bad news for the overall box office picture continues with the revenue downtrend crashing headlong into its 14th consecutive week.  The year ago super-strong extended President's Day weekend (which falls a week later this year) was led by the romantic comedy Valentine's Day with a $56.3 million 3-day haul and The Wolfman and Percy Jackson and the Olympians both debuting with over $31 million. 
Weekend Box Office
Top 10 Movies – For Weekend of February 11, 2011 – Estimates
       Movie                 Weekend             Total
1     Just Go With It (PG-13)     $31.0 M     $31.0 M
2     Justin Bieber: Never Say Never (G)     $30.3 M     $31.0 M
3     Gnomeo and Juliet (G)     $25.5 M     $25.5 M
4     The Eagle (PG-13)     $8.6 M     $8.6 M
5     The Roommate (PG-13)     $8.4 M     $26.0 M
6     The King's Speech (R)     $7.4 M     $93.8 M
7     No Strings Attached (R)     $5.6 M     $59.9 M
8     Sanctum (R)     $5.1 M     $17.5 M
9     True Grit (PG-13)     $3.8 M     $160.3 M
10     The Green Hornet (PG-13)     $3.6 M     $92.3 M