'Savages' Taylor Kitsch, Aaron Johnson on Threesomes and Sharing Blake Lively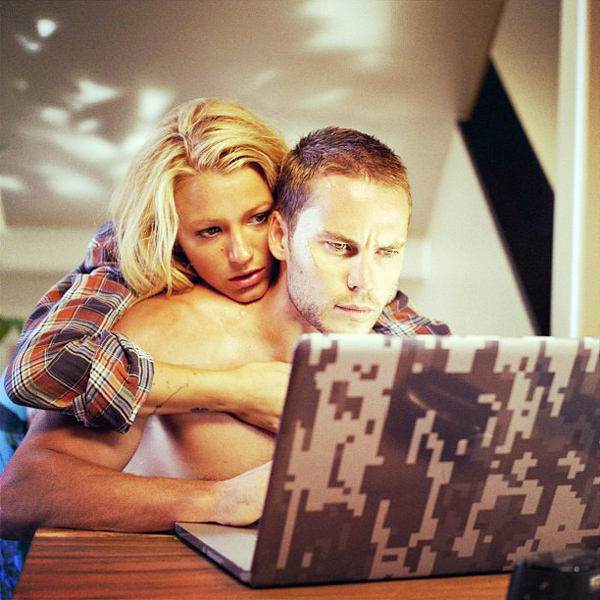 Taylor Kitsch and Kick-Ass star Aaron Johnson are certainly put through the ringer in Savages, Oliver Stone's bloody sex and drugs-fueled look into north-of-the-border cartel violence. As polar opposite best friends Chon and Ben, the men share everything from their booming boutique marijuana business to the love of their life, "O" (Blake Lively). Yet while dealing with the formidable presence of Hollywood badass Benicio Del Toro and charismatic scene-stealer Salma Hayek was daunting both on and off screen, there was one task that Kitsch feared most of all: His steamy threesome with Johnson and Lively.
"We have barely any scenes with her, so we have to get it in basically in one scene," Kitsch explains during a press conference in Los Angeles, referring to the actors' three-way chemistry. "We have to show this connection between three people — that they'll literally die for each other.
It's true: Chon, Ben and O don't just sleep with each other, they actually breathe for each other — and viewers need to know that these characters would also willfully stop breathing for each other for the rest of the film to work. Hence, the importance of the early-on ménage à trios. It's steamy, yes, but also thematically important. 
The threesome's free love dynamic is certainly unconventional and messy, as Hayek's character pointedly mentions later on, but Johnson explains why this rare love triangle actually kind of works. "Chon's this ex-Marine and kind of a fighter, and my character's more of a sensitive hippie kind of guy," he says. "So we have that balance that [O] looks for." But couldn't O go off and find this all in one man, you ask? Johnson personally seems to agree. "I think she's just f***ing greedy to be honest," he laughs.
Greedy or not, Kitsch says he was seriously sweating their time beneath the sheets. "We had two weeks of rehearsal," he explains. "So we talked it until we were about to pass out. Then on the day… I mean, I think I knew Blake three days, four days, before we shot. That was the first week of shooting. I was just glad it was over with, to be honest."
Despite the challenge of getting naked with two strangers in front of one of the most iconic directors in Hollywood, Kitsch was glad the steamy scene made the final cut. And while their romantic situation may be far-fetched for the average Joe, these three pull it off — making the impending danger all the more thrilling. Audiences never have to worry about a Chon vs. Ben showdown, or doubt how far these three will go to save each other from Hayek's cartel. In short, their love for each other raises the stakes. "I think it's almost undebatable how much you can tell we love O," Kitsch says. "[It's about] playing the higher card rather than making it about us — about who loves her more. I think our actions will speak a lot louder than us debating who loves her more."
Savages hits theaters Friday, July 6.
Follow Shaunna on Twitter @HWShaunna
[PHOTO CREDIT: UNIVERSAL PICTURES]
MORE:
Blake Lively, Salma Hayek and Co. on Sex, Drugs and 'Savages'
'Savages' Red Band Featurette: F-Bombs, Guns Aplenty