13 Reasons Why Green Screened, Banjo-Filled 'Saving Lincoln' Is Better Than Spielberg's 'Lincoln'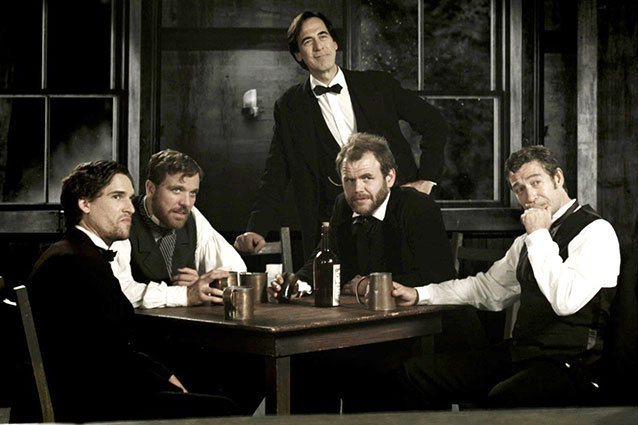 Even with forces like Steven Spielberg and Daniel Day-Lewis at the forefront, it was hard to predict just how much of a triumph the 2012 drama Lincoln would be. And while I was firmly aboard the bandwagon of the biopic's majesty after catching it in theaters this past fall, my loyalties have shifted to an entirely different Abraham Lincoln movie: Saving Lincoln, one of the strangest films I've ever seen.
Spielberg's Oscar contender hit theaters in November with a surprisingly lively account of our 16th president, one that could be as amusing as it was powerful. People weren't expecting to have fun at an Abraham Lincoln movie, but director Spielberg spun the historical yarn with as much whimsy and humor as you might find in any modern day picture, resulting in far more than your run-of-the-mill, stuffy biography film.
But where Lincoln veers from the road of our expectations, Saving Lincoln drives top speed off the highway, busting through dividers, and probably taking out a few deer. The peculiarity hits you before you even begin the watch: the format alone of Saving Lincoln is enough to conjur a "What the hell?"
1. The Movie Is Shot Entirely on Green Screen, Over Real Civil War Footage
Borrowing from the pages of 300, Saving Lincoln is chroma keyed from start to finish. The actors perform before green screens as opposed to within constructed sets or on location, with actual still photos from the 1860s planted behind them throughout. It hits you quite brusquely at first, and pops back into your conscious time and time again as the movie goes on, never letting you fully forget that what you're seeing is… strange.
RELATED: '60 Minutes' Tributes 'Lincoln', Turns Away 'Zero Dark Thirty'
2. Lincoln Is Kind of a Douche
While Spielberg's Lincoln focuses primarily on the Commander in Chief, Saving Lincoln takes the perspective of the pres' bodyguard, right-hand man, and close friend: Ward Hill Lamon. Played by Lea Coco, Lamon recounts his time with Abe to an undisclosed audience, flashing back to various snippets of their legion through the Civil War. While Lamon works tirelessly to protect his friend and boss from harm, Lincoln is dismissive and disrespectful to Lamon throughout, putting little stock into his opinions.
In fact, when Lincoln and Lamon first meet, in a pub, Lincoln (in an effort to impress his assortment of friends), teases town newcomer Lamon, mocking his clothing and unfamiliarity with the town. After bringing Lamon into his employ, Lincoln denies the man his aspirations to travel to France as an American ambassador. "No," Lincoln scoffs condescendingly. "Why don't you just stay here in D.C. instead?"
3. Banjos Materialize, Seemingly from Nowhere
In a running element that'll conjur memories of the Animaniacs reaching offscreen to grab mallets and anvils and any number of doodads, Lincoln and Lamon seem to have a mystical knack for nabbing banjos at a moment's whim. When Lincoln is depressed or strained over his political follies, he snaps his fingers — twang! Lamon has a banjo in hand, plucking away at Dixieland tunes.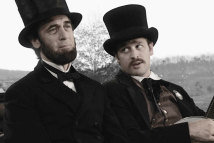 4. It's Filled with Over-the-Top Foreshadowing
Everybody knows how a story about Abraham Lincoln is bound to end… including, so it seems, the characters in this movie. "Whatever you do," Lamon warns sternly. "Don't go to the theater!" And, in the wake of his senators' frightened cackling about Lincoln's safety, the president himself laughs campily, assuring them, with emphasis, "No president has ever been assassinated!" These are direct quotes.
RELATED: 'Lincoln' Surprises with Amazing Ensemble
5. It's Kind of Like The Music Man
Despite dealing with material like war and slavery, the film at time feels like Lincoln and Lamon are simply hard at work devising some get-rich-quick scheme. At one point, when inspired by his cohort, Lincoln actually blurts the phrase, "Hill — that's it!", rushing emphatically off to set the cogs in place for the next part of his overarching plan.
6. Nobody Liked the Gettysburg Address
America recalls Lincoln's brief but compelling 1863 speech as a turning point in our nation's history. But at the time, at least according to this movie, the delivery was underwhelming. After a classical music-backed recitation of the speech from Lincoln portrayer Tom Amandes, the crowd is silent… but not with awe. "Is… is that it?" somebody asks. Groans and dissatisfied stammers follow.
7. There's a Scene Where Lincoln Plays Handball
Self-explanatory.
8. Scenes Are Stopped in the Middle of Conversations So That People Can Pose for Photos
In keeping with the time's technology, Lincoln and his cronies are forced to stand still for 30 seconds when posing for a photograph. In a movie, this practice might come off as a bit awkward, especially if two of the central characters are engaged in a heated argument at the time. But that doesn't stop Saving Lincoln, which interrupts a climactic fight with a 30-second silence, only to resume it again immediately after (picking up mid-sentence).
9. Creed Bratton Is In This Movie
The former Grass Roots bandmember and current The Office oddball plays a senator. He's not in very many scenes, but it's jarring to see him outside of Dunder Mifflin.
RELATED: 'Lincoln': Finding Abe's Honest Voice — VIDEO
10. Lincoln (and Lamon) Are Terrified of Mary Todd
Whereas Sally Field gave us a First Lady who was kind, intelligent, level-headed, and condusive to her husband's success, Penelope Ann Miller plays a character who is shrill, hostile, and in possession of a very tight leash that wraps around Abe's neck. In an effort to placate an upset Mary Todd, Lincoln attempts to butter her up with compliments about her beauty, with an equally petrified Lamon chiming in. But their toils are futile… 
11. They Use Words Like "Absquatulate"
It means "to leave suddenly," and it's awesome.
12. There's a Knocking-On-Doors Montage
Following an attempt on his wife's life, Lincoln goes on the war path. He and Lamon set off, knocking on local doors, in vehement search for the perpetrator of the deed. It's delivered via speedy, cartoonish zooms on the characters' faces as they storm the town, culminating with Lamon's seizure of a possible female spy whom he found himself flirting with a few scenes earlier.
And finally…
13. The Movie Seems Entirely Aware of the Fact That All Of These Things Are Ridiculous
And, as such, hilarious. It is not only the sense of humor of the characters, but of the film itself that makes Saving Lincoln so interesting. The movie doesn't sell short the journeys of Abraham Lincoln at all — his time in office, his efforts to end slavery, and his personal sufferings are all handled with sincerity. But Saving Lincoln realizes that this doesn't mean it can't have fun with its material.
Saving Lincoln hits limited theaters on Friday.
Follow Michael Arbeiter on Twitter @MichaelArbeiter.
[Photo Credit: Saving Lincoln LLC(2)]
---
From Our Partners:

Kate Upton Bares All in Nothing But Body Paint: Video (Celebuzz)

Bradley Cooper Dancing Is Surprisingly Awkward, Sweaty (Vh1)