Scarlett Johansson: How She Captured 'the Essence' of Janet Leigh in 'Hitchcock'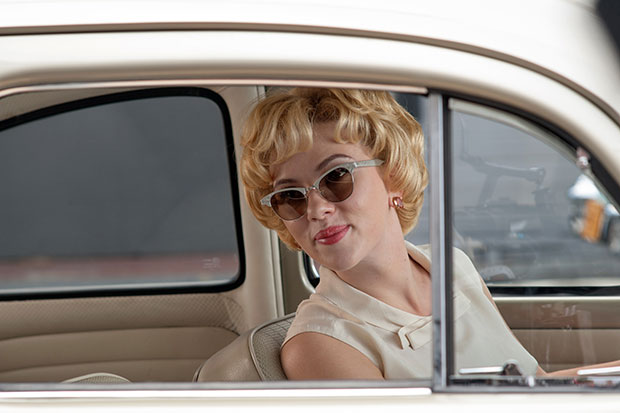 52 years ago, the world was introduced to a new type of horror film: Psycho. Alfred Hitchcock's creation, based on Robert Bloch's 1959 novel, took film in a direction it had never gone before with it's brutal depiction of violence and risque sexual scenes. If you haven't seen Psycho, you have at least heard about the historic scene where Janet Leigh's character, Marion Crane, is stabbed to death in her shower. While in 1960 this scene caused much controversy, it remains not only one of Hitchcock's most infamous film moments, but also the scene that pretty much defined Janet Leigh's career. On Friday, North America will get to see Scarlett Johansson transform into Leigh in Hitchcock — the movie about the filmmaker's life during the creation of Psycho — when it drops in theaters. But how, you might wonder, is Johansson able to fill the shoes of such a remarkable actress?
"I came on with my own experience living with [Janet's image] and having an idea how I wanted to portray her," Johansson told reporters at the New York City premiere of Hitchcock on Sunday. "[I tried to] to capture the essence of her." And she did just that. When it came to the shower scene, Johansson was able to perfectly recreate the exact emotion that Leigh demonstrated in Psycho.
But for clothed scenes, physical appearance and makeup also helped Johansson to morph into Leigh. "I was very fortunate to have Julie Hewett and Julie Weiss, our costume designer and our makeup artist, and our whole team [bring] their own experience with Hitchcock to the set," she said. "So it [was] a collaborative effort."
Johansson even loved her early 1960s wardrobe. "It's a nice period," she said. "Of course it's a lot of foundation garment. And the shape, the silhouette, is always flattering."
And when it comes to Hitchcock, Johansson admitted that she's definitely a fan, especially of his movie Strangers on a Train. "I always liked that film," she said. "I think as a child, I responded to the carousel scene. I like that it makes you feel slightly disoriented." She added, "It takes you on a roller coaster of suspense that Hitchcock was so talented with. It's a classic."
Living up to Janet Leigh's talent portrayed in Psycho must not have been an easy task, but Johansson blows away expectations with her performance in Hitchcock. Hitchcock drops in theaters this Friday, Nov. 23.
Watch the original shower scene from Psycho below.
Follow Lindsey on Twitter @LDiMat.
[Photo Credit: Fox Searchlight]
More:
'Hitchcock' Premiere at AFI Fest: A Classic Hollywood Tale of Love and Horror
Dial M for Makeover: Which Star Looks the Most Like Hitchcock?
'Hitchcock': The Horrors of Making 'Psycho' — TRAILER
From Our Partners:

'Twilight: Breaking Dawn 2' Scores a HUGE Win (Moviefone)

Best (and Worst!) Movie Plot Twists Ever
(Moviefone)