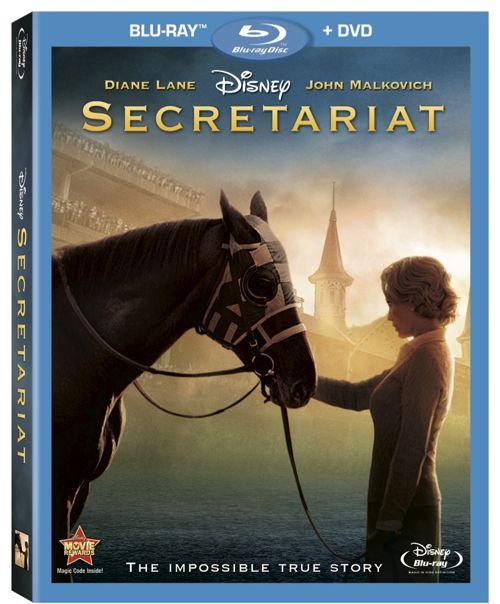 Secretariat is Walt Disney Pictures answer to Universal's Seabiscuit in that they are both stories about prize-winning thoroughbreds and their owners/trainers/jockey's overcoming incredible odds to change the world of horse racing forever. They often look and sound similar despite being set nearly half a century apart. And although their narratives ultimately follow the same trajectory they can be compared and contrasted by the characteristics of the studios the made them. True this is an odd way of looking at a film but bear with me for a moment.
While Seabiscuit ends on an uplifting note the human drama at its core involving "Red" Pollard and Charles Howard their relationship with one another and the triangle of friendship between Pollard Howard and his wife and the horse is paramount in making the rousing conclusion heartfelt. Universal Pictures is a company that has thrived on some deeply dramatic works of film-art and made sure that it produced something more than just another sports movie. It worked and Seabiscuit went on to receive seven Academy Award nominations.
Secretariat though an equally inspiring tale doesn't hit all the strings that its predecessor does because in true Disney form the tone of the film is sentimental and borders the line between that and schmaltz. Every time director Randall Wallace uses events of the era (like protests of the Vietnam War) or secondary storylines (like the family drama that ensues when Penny Chenery [Diane Lane] decides to split her time between her Denver home and the Southern ranch where her super-stallion resides) to layer the story the film slips back into feel-good mode marked by 70s soul and the generic golden glow that seems to be a DP's choice in shooting scenes from "a better time." This takes away from Secretariat's legitimacy as cinema leaving behind just another sweet product of the Mouse House.
That's not to say that the cast and crew don't get a few things right. Though Lane's Penny at first appears to be a cookie-cutter homemaker overwhelmed by the responsibility of tending to her aging father's ranch she quickly proves that she's a tough cookie. I thoroughly enjoyed John Malkovich's performance as Lucien Laurin the down-on-his-luck trainer who needed to win just as much as Penny as he was the only one to shake things up a bit. The horseracing sequences executed by seasoned cinematographer Dean Semler (who won an Oscar for shooting Dances With Wolves) are standout scenes that are very exciting thanks to some nifty editing.
Secretariat could've been good but producers Mark Ciardi and Gordon Gray aimed to make an easily accessible family film that rarely challenges its viewer; because of that it's just okay. Historians may be interested in some of the special features including a conversation between Wallace and the real Penny Chenery (who has a brief cameo in the film) and a closer look at the real Secretariat and his triumphant 1973 Preakness run while film enthusiasts will rather listen to the filmmaker's commentary or watch a brief featurette on the choreography of the races. It's worth renting for a carefree night with the family but there's not enough bonus content or replay value to warrant a purchase.