Seth MacFarlane's 'Psycho' Oscars Video: How Will He Mock Pop Culture at the Show?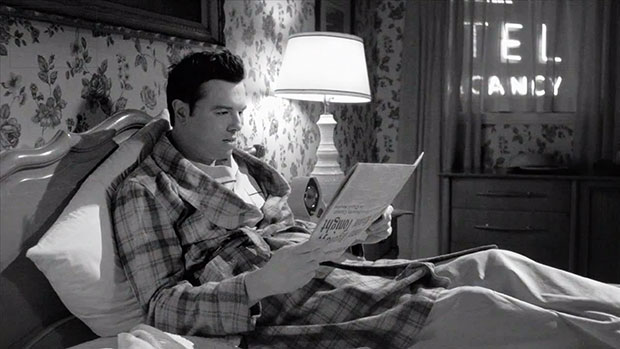 Seth MacFarlane has made a career out of watching movies and telling jokes about them — the post-Fitzgerald American Dream. Through innumerable film and television references on Family Guy and the barrage of Flash Gordon gags in his feature debut Ted, MacFarlane has exhibited such an ingrained fixation on pop culture that his new position of Academy Awards host seems meant to be. The only questions involve what form his references will take, and which titles will play the targets.
In Oscars tradition, a host will generally keep his or her jabs directed primarily at the honored projects and individuals of the year, straying less frequently to the well of Hollywood classics or cult classics (as is MacFarlane's bread and butter). But the new promo for the 85th Annual Academy Awards ceremony showcase's the multi-hyphenate thrusting himself full force into the embrace of age-old cinema, parodying Alfred Hitchcock's Psycho.
So does this mean that MacFarlane is staying true to his roots, and having a field day with properties throughout the industry's history? While the host should be encouraged to grab at his passions, it might actually be wise to contain the comedy's subject matter to a bit narrower of a spectrum: jokes about Psycho, Flash Gordon, Perfect Strangers, Kramer Vs. Kramer, The Rockford Files, and whatever else he has perpetually floating around in the ol' gag factory upstairs might work when applied to promos, movies, and cartoons, but could a hosting performance laden with century-spanning references just come across as all over the place?
But as far as the delivery of these jokes goes, we should be in for a treat. MacFarlane's go-to formula isn't one liners (though he's got plenty of those as well), it's bits and sketches. An Oscar night stuffed with creative skits pointed at whatever films or creative forces the host does decide to target should be a winner… especially if one or two of 'em are musical. And MacFarlane has no aversion to that sort of thing.
[Photo Credit: ABC]
More:
Seth MacFarlane's 3 Ds of Oscars: 'Drinks,' 'Daniel Day-Lewis,' and 'Douche' — VIDEOS
Seth MacFarlane's Oscars Preview: How Will He Do on Show Night? — POLL
Oscar Race: Does Harvey Weinstein Rule The Oscars? — INFOGRAPHIC

J. J. Abrams and 'Star Wars': Has the Lightsaber Been Passed to the Right Director?