It's of no surprise that Seven Psychopaths Oscar nominee Martin McDonagh's madcap crime comedy won the People's Choice Midnight Madness Award at this year's Toronto International Film Festival. The film is a weird crowd-pleaser that's as much a blood-soaked macabre midnight movie as it is a self-aware satire on the very place that spawns all this madness: Hollywood. 
The movie follows Marty (
Colin Farrell
playing the straight man this time around) a functioning alcoholic and Los Angeles screenwriter struggling to complete his screenplay
Seven Psychopaths
. Un/lucky for Marty his wildly off-balance best friend Billy (a scene and movie-stealing
Sam Rockwell
) is an out-of-work actor who dognaps for reward money and provides the writer with a wealth of material. 
Billy works side-by-side in the dog thievery business with Hans (a particularly poignant and wonderfully weird
Christopher Walken
) a deeply religious man with a haunted violent past who uses the money to provide for his ailing wife (
Linda Bright Clay
).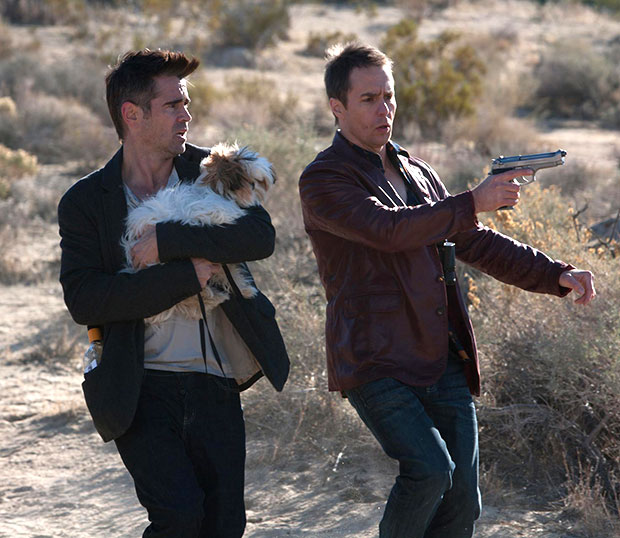 After the men kidnap the wrong person's Shih Tzu — owned by a bona fide lunatic and gangster by the name of Charlie (
Woody Harrelson
continuing his 2012 hot streak) — and Billy puts an ad in LA Weekly searching for the city's best psychopaths Marty finds inspiration for his screenplay. It quite literally arrives at his doorstep putting his life — and the lives of everyone around him — in danger. 
McDonagh's unpredictable utterly deranged multi-layered noir homage is a testament to the Oscar-nominated McDonagh's scope sensibilities and talents as a writer and director (it has been earning comparisons to the work of
Quentin Tarantino
and understandably so). The film is not only reminiscent of Tarantino in style execution and use of an eclectic ensemble but in storytelling techniques too.
The film features a series of darkly hilarious vignettes including a pair of bumbling hitmen (played by Boardwalk Empire costars Michael Pitt and Michael Stuhlbarg) and a series of revenge fantasies featuring distraught mourning parents like a Viet Cong soldier (Long Nguyen) and a Quaker (Harry Dean Stanton); and serial killer killers (Amanda Warren and a bunny-toting Tom Waits) that all hearken back to Pulp Fiction both Kill Bills  and Inglorious Basterds respectively.
But don't call Seven Psychopaths a Tarantino ripoff. McDonagh somehow manages to conjure up all the best things about the fellow auteur's aesthetics (he like Tarantino also relies his muse again with Farrell) and remain in a league all his own. It's rare to find a writer who is able to effortlessly inject his own running internal monologue into their characters without it seeming self-indulgent but McDonagh pulls it off. 
McDonagh/Billy grapples with making a movie that sports over-the-top violent gun-toting guys and expendable female characters (something it gives a wink and a nod to throughout but doesn't quite solve that costars Abbie Cornish Olga Kurylenko and Gabourey Sidibe play up in their ultimately disposable roles) or one that is ultimately about love and friendship. He somehow manages to make it both. 
While
Seven Psychopaths
doesn't pull off that delicate balance quite the same way the far superior
In Bruges
did running a bit too long with a fantasy
sequence that's far more satisfying than the film's actual conclusion but it arguably packs heartier laughs than its predecessor (thanks largely in part to Rockwell's Billy's buffoonery and a deliriously funny rant about Gandhi). McDonagh's latest is the craziest thing to come out of Hollywood this year — in the best way possible.