8 Sex Comedies That Are Actually Good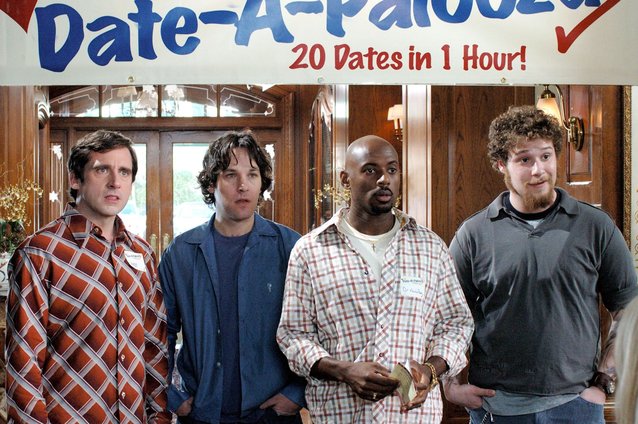 Universal Pictures via Everett Collection
The sex comedy is a very tricky genre of film to get right. If it's too focused on the raunchier side of things it becomes an endless string of gags, all attempting to be outrageous for the sake of being outrageous. But if it's too worried about being over-the-top, it might as well be any other generic romantic comedy. Cameron Diaz and Jason Segel are the latest to try their hands at it with their latest film, Sex Tape, which hits theaters on Friday. In the film, they play a married couple who film themselves in the act in an attempt to spice up their lives… only to accidentally forward the explicit video to all of their family members, friends, and colleagues. Normally, we'd be a bit wary of any upcoming sex-focused comedy, but both Segel and Diaz are old hands at the genre, thanks to their experience in films by Judd Apatow and the Farrelly Brothers. Therefore, we can only hope that Sex Tape will be the latest film to join the highly-competitive pantheon of sex comedies that are actually good movies. It's a small group, but a prestigious honor to behold. Here are our picks for the films that have already earned the title: 
The 40-Year-Old Virgin  
The film that helped Judd Apatow break into the mainstream and established Steve Carell as a movie star, The 40-Year-Old Virgin has a pretty obvious premise: Andy has made it to 40 without having sex, so his buddies try and help him step up his game. It could have been an unfunny, over-the-top movie about a loser and his creepy friends, but Apatow managed to subvert all of our expectations (well, maybe not the creepy friends), and create a movie with just as much heart as humor. A lot of that is due to Carell, whose Andy is not just awkward and nerdy, but also endearing, goofy, and a genuinely good guy.
Superbad
The rare sex comedy that doesn't actually feature any sex, Superbad was the movie that put Jonah Hill on the path to becoming a two-time Oscar nominee, made Michael Cera the face of awkward teenagers everywhere, and made everyone overuse the McLovin joke for a solid month or so. Much of its success is due to its ability to transform a tired plot – teenagers go on a mission to impress girls so they'll sleep with them – into a love story between two best friends. Surprisingly sweet and heartfelt but still hysterically funny, Superbad proves that sometimes, a little heart can go a long way.
Easy A
Like in her breakthrough film, Superbad, Emma Stone's character doesn't actually have sex in Easy A, but that doesn't stop her from telling everyone she did in order to bolster her reputation. Where most teen sex comedies focus on the guys who are trying desperately to get some, Easy A takes a different approach and looks at the effects that rumors of promiscuity can have on a high school girl's social standing, and the hypocritical ways that we, as a society, treat sex. A sharp, smart, and endlessly charming film, it's no wonder that it was the film to turn Stone into a proper movie star.
Don Jon  
Joseph Gordon-Levitt's directorial and screenwriting debut centers on Jon, a Jersey-bred bartender who only cares about his friends, his family, his looks, and his porn. His attempt at a relationship with Barbara (Scarlett Johansson), a rom-com-obsessed bombshell, fails when he refuses to give up his Internet addiction for her, and so he is forced to confront his perceptions of what sex and love are. Though the best parts of the film are centered on Johansson, Don Jon is also worth a watch for its original, humorous take on the typical romantic and/or sex comedy.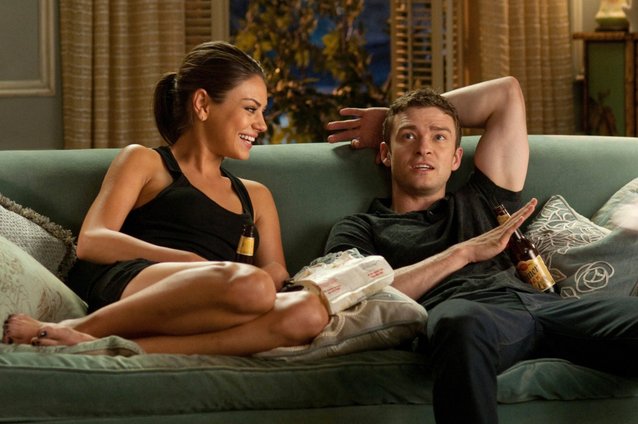 Screen Gems via Everett Collection
Friends With Benefits/No Strings Attached
We're going to tackle these two together since they're pretty much the same movie, with slightly different casts. Both focus on wise-cracking, good-looking friends who are hooking up, eventually realize that they want more, and come together at the end for a slightly cheesy ending. But even though they cover a lot of the same material, they're both funny, entertaining flicks starring two incredibly talented actresses – Mila Kunis, as sharp and funny as always and Natalie Portman, refreshingly relaxed and charming – that tackle that whole friends/hookup partners/couple dynamic in a realistic, goofy way.
Risky Business
The second Tom Cruise slid across the screen in Ray Bans and tighty-whiteys, he became a star. Not just a movie, but a landmark moment in his career, Risky Business is also one of the best sex comedies ever made. From the dancing to the car crashes to the slapstick-laden Princeton interview, Cruise is at his best in this film: a little brash, plenty arrogant, and incredibly charismatic. It's no wonder America instantly fell in love with him.
Fast Times at Ridgemont High
Fast Times at Ridgemont High has become iconic for two things: a young Sean Penn playing the school slacker and the scene where Phoebe Cates climbs out of a pool in a red bikini. But Fast Times has endured hanks to its realistic portrayal of teenagers, their challenges, and their experiences. It's hilarious, it's awkward, it's sometimes moving, but most of all, it's relates to the teenagers it's trying to appeal to, and the adults who can look back on it more fondly than their own high school experience.
There's Something About Mary
It seems only fitting to discuss Diaz's latest sex comedy in relation to her first. As Mary, the irresistible object of everyone's affections, Diaz is effortlessly funny and completely winning, but the rest of the film is excellent as well. The Farrelly Brothers' signature gross-out humor is balanced by a healthy dose of heart, which helps us to sympathize with Ted and his quest to win back his dream girl. We get why everyone loves Mary, we get why these tree idiots would be willing to fight over her, and we get a hilarious, weird, and wonderful two hours of entertainment out of it.