Review: The Miraculous 'Short Term 12' Makes Both Its Heartbreaking Lows and Hopeful Highs Feel Real
Very little of your time spent with Short Term 12 — whether it be watching the movie, thinking about it at home, or talking about it with a friend — won't feel like a thousand pound weight on your shoulders. From the get-go, the movie has you, anchoring you down to its sad and beautiful world and demanding that you carry with you all of the incredible thoughts and feelings it has to offer. If you have not had personal experience with any of the film's assortment of stories — stories of child abuse, abandonment, self-mutilation, oppressive depression and aloneness — the depictions will shock you. And if you have, they'll shock you at how true they got it. The best shock of all: the ability to convey these things with such piercing reality and keep you afloat all the while. Short Term 12 doesn't sugarcoat the depths to which these dark avenues can make a young person plunge. But it doesn't leave you without hope, either.
In fact, Short Term 12 ushers you into its special world by allowing you to laugh at and with its characters. Brie Larson and John Gallagher Jr. play a pair of counselors at the titular home for disadvantaged children, actively pursuing beacons of light and love to lift them out of the sorrows of their occupation and personal histories. Larson, as the film's star, gives far and away the most impressive performance of the year as a young woman who can put her all into rescuing her kids from the stormclouds that drown them in sadness and self-loathing but is also stuck beneath her own without so much as an umbrella. With the maturity of her character and her performance, you won't believe that budding star Larson is only 23 years old.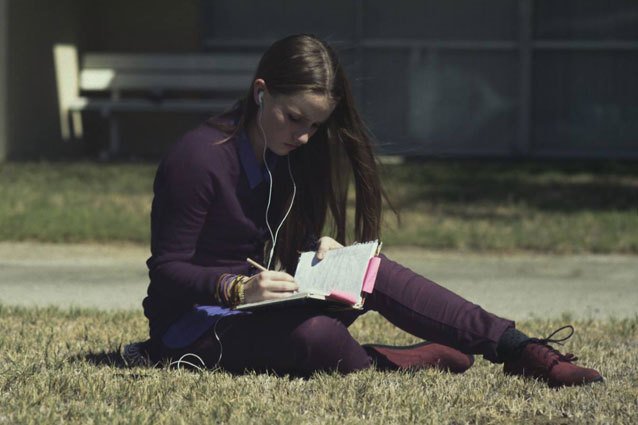 Cinedigm
But Larson and Gallagher never rob their adolescent counterparts of the attention they both deserve (even more impressive than Larson playing a woman older than her real age are children so young offering performances so booming) and need to carry forth the vitality of Short Term 12. Although we really only have time to explore the stories of two kids at the home, what we get from each — and from the character of Short Term 12 itself — is enough to leave your heart in pieces. When we see the low lows of 17-year-old Marcus' (Keith Stanfield) and 15-year-old Jayden's (Kaitlyn Dever) battles with depression, anxiety, and parental malfeasance, we are shaken. We are invited into the saddest individual universes (as that is how their realities feel to these children: like all-encompassing, ever-reaching universes) to see the blackest crevices of rock bottom.
But again, Short Term 12 doesn't leave us there to rot. It wants us to see everything the world is capable of in terms of heartbreak but it also wants us to know that this isn't the ultimate, that there are ropes to pull us back up and plateaus to which we might ascend. And these, in testament to the magic worked by filmmaker Destin Cretton and his unparalleled cast, feel just as real as everything else we experience. To make the sad stories work, compel, feel true is a triumph. But to make the beacons of light and love shine as bright as they do and feel just as true notwithstanding — which Short Term 12 does, and so emphatically — that's just shy of miraculous.
5/5
More:
'The Spectacular Now' Review
'Short Term 12' Exclusive Poster
'Short Term 12': Small Movie, Big Impact
---
From Our Partners


Battle of the Bikini Bodies (Celebuzz)


Complete Guide to Strippers in Movies and TV (Vh1)