Other '80s Movies That Need the 'About Last Night' Treatment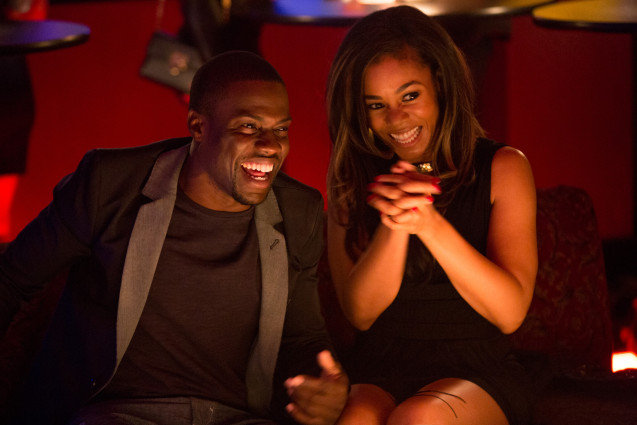 Screen Gems
When David Mamet's play Sexual Pervesity in Chicago was adapted into the 1986 movie About Last Night, the self-absorbed Chicago twenty-somethings were played by Rob Lowe, Demi Moore, Jim Belushi, and Elizabeth Perkins. In the 2014 remake, those parts are now being played by Michael Ealy, Joy Bryant, Kevin Hart, and Regina Hall and nothing about that seems unusual. It isn't that Mamet's play has changed much in the 40 years since he first wrote it, it's that some of the audience's preconceived notions of who can play what role have.
Just as it happened with the reworked The Karate Kid that featured Jaden Smith in the title role made famous by Ralph Macchio, About Last Night takes a '80s story and adds some ethnic diversity to come up with something new. Well, there's a whole lot more movies from the '80s that are just sitting there waiting for just such a redo. Here are five stories that would work just as well in a more coloful version.
Sixteen Candles
Molly Ringwald playing the forgotten girl on her birthday, in love with an older boy and tormented by geeks in the John Hughes classic. Everything about the story still works, including the Chicago suburban setting that was ultra-white in the '80s. Disney Channel stalwart Coco Jones is the right age to play the teenager in love, and Zoe Kravitz would make a fine addition as her attention-hogging older sister. So what if Jones and Kravitz don't look alike? Ringwald looked nothing like her onscreen family in the original. In the all-important older guy role, someone like 90210's Tristan Wilds could provide the smolder. The only real issue would be what to do with the original's exchange student, The Donger. That was a role so racially regrettable that it doesn't exactly have a place in today's world.
Working Girl
In Mike Nichols' film, Melanie Griffith played the secretary that secretly takes over for her out-of-commission boss (Sigourney Weaver), proves a capable business woman, and wins the affection of Harrison Ford. The Griffith character would have to be called an assistant now, but otherwise there isn't much about the story that needs to change. Use someone like Kat Graham (The Vampire Diaries) or Tika Sumpter (Ride Along) as the underling trying to get ahead, maybe Halle Berry or even Gabrielle Union as the obnoxious boss and Taye Diggs as the love interest, and update the setting from a generic New York investment bank to the entertainment idustry. What Hollywood assistant doesn't want to push the boss out of the way and take over?
Flashdance
Sure, people remember the soundtrack but how many people remember the story? A steel-worker by day who dances in a bar by night, all while dreaming of making it as a legitimate professional dancer, and is pursued by her rich boss. Back then she wasn't really a stripper, but now she would have to be and she'd be trying to break into something hipper than ballet. The role could also be played this time by someone that can legitimately dance, since Jennifer Beals, the original star, was famously replaced by a body double. Someone like That Awkward Feeling's Jessica Lucas would work, or else there's got to be a Janelle Monáe back-up dancer that's ready to break out.
Caddyshack
Tiger Woods broke on the scene nearly 20 years ago, so a golf comedy set at a country club and featuring a diverse cast shouldn't be any big deal. It's near sacrilege to many to consider remaking such a beloved classic, but a new version would be shooting for a whole new audience. After all, golfers of all colors are tired of reciting the same tired lines from the original. Start with Hart taking on the Rodney Dangerfield role of the rich guy that doesn't like the country club set. Imagine letting Hart riff on a bunch of rich people while dressed in ugly golf garb, throw in Saturday Night Live's Jay Pharoah as the wacky grounds keeper, and it just flows from there. You could have a who's who of comedy going… Godfrey, Chris Rock, Mike Epps, Katt Williams, Faizon Love… there would be a part for just about everyone. Heck, even Eddie Murphy might be convinced to do the Judge Smails role that Ted Knight made famous. That would be top notch.
Three Men and a Baby
Tom Selleck, Ted Danson and Steve Guttenberg were three well-off bachelors sharing a fabulous midtown Manhattan apartment that have their lives interrupted by a baby being dropped off at their doorstep. The idea of guys taking care of babies continues to be played for laughs, most recently in the sitcom Guys with Kids. What has been missing since Three Men is the angle of the guys being rich, Type A personalities. Take Jesse L. Martin, Tyler Perry and Damon Wayans Jr., move the setting to Hollywood, make them all successful and sharing a Charlie Sheen-type playpen, and then let a baby screw up their lives. It's comedy gold.