'Sixteen Candles' vs. 'Pretty in Pink': Which John Hughes Movie Is More Relevant Today?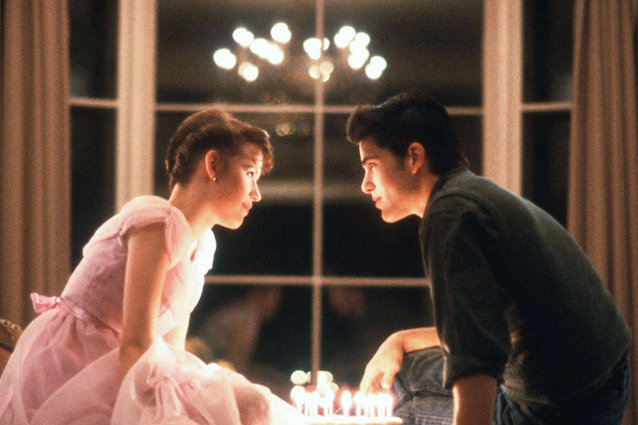 Universal Pictures 
Writer-director John Hughes was the master of the teen movie in the '80s, scoring hits with The Breakfast Club, Ferris Beuller's Day Off, and Weird Science, and working with a veritable "who's who" of young '80s actors (Matthew Broderick, Kevin Bacon, Robert Downey Jr., John Cusack, Bill Paxton, Charlie Sheen, etc.).
His teen muse, however, was Molly Ringwald. The young redhead was the star of his directorial debut, Sixteen Candles, and was the inspiration behind Pretty in Pink, which Hughes' wrote and produced. It's been 30 years since the release of Sixteen Candles and 28 since Pretty in Pink, yet each movie has maintained an audience across the decades. Which one, though, is more relevant if you were seeing it for the first time right now?
Ringwald's Samantha Baker is having a terrible 16th birthday. Her parents forgot it entirely. Her grandparents, who are in town for her sister's wedding, are commenting about her "boobies" and bring along a horndog foreign exchange student (Gedde Watanabe). She's got a freshman geek (Anthony Michael Hall) chasing after her, and in exchange for leaving her alone takes a pair of her panties to show off to the other nerds… for a dollar apiece. Worse than all of the other indignities, though, is the fact that she's totally in love with a senior (Michael Schoeffling) who's dating the most popular girl in school (Haviland Morris).
In other words, it's just about every teen girl's worst nightmare, something that really hasn't changed much in the ensuing years. The film is fanciful and fun, with jokes that are both clever and corny. It's the sort of movie that provides mothers and daughters talking points for everything from love to sex to body image issues. Feeling like you're completely on your own as a teenager and that nobody really cares about or appreciates you is a rite of passage for everyone, as are those first heart-stopping crushes. Youthful insecurity is fairly timeless.
Hughes took a (slightly) more grounded view of a young girl's high school experience in Pink. Ringwald plays Andie, a girl from the poor side of town who makes her own clothes and has to take care of her down-on-his-luck father (Harry Dean Stanton). She works in a music store and hangs out with an eccentric friend named Duckie (Jon Cryer), as she tries to just make it through until she can go to college for fashion design. But then she falls for one of the rich kids (Andrew McCarthy), and has to deal with the very obvious class distinctions that are continually pointed out by his obnoxious friend (James Spader). Unlike the lead in Sixteen Candles, Andie doesn't need recognition from anyone, definitely doesn't want to be pitied ,and is perfectly capable of standing up for herself. She's conscious of Duckie's feelings, but she neither patronizes him nor leads him on. When McCarthy's Blane backs out of their prom date, she goes it alone (and, okay, with a little help from the Duck).
Essentially, Andie is that quiet girl in high school who blossoms in college and doesn't go to reunions because she's too busy with a great career. It's a little hard to get past the very '80s wardrobe, although it has a killer soundtrack (OMD's "If You Leave" still makes anyone over 40 nostalgic for their own prom). In the end, though, Andie is a realistic teen heroine who, unlike say Jennifer Lawrence in The Hunger Games, navigates through a world that is not terribly different from the present and does it by empowering herself. That's not a bad lesson for any young woman to learn.
Both of the teen classics have relevance to a modern audience in their own way, although the jokiness of Sixteen Candles probably helps it translate a little bit easier. That's what we think, but now it's your chance. Vote below to tell us which of Hughes' teen comedies has remained more relevant.