'Skyfall' hits Half a Billion Worldwide!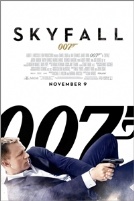 Skyfall not only sets Bond record for its North American debut, it passes the $500 million mark worldwide!
This from Sony Pictures:
SKYFALL, the 23rd film in the James Bond series, grossed an estimated $89.0 million this weekend overseas bringing the international total to $428.6 million and an estimated $518.6 m worldwide.
Sony's markets earned $79.6 million to bring the cume to $367.4. MGM's distribution partners grossed $9.4 million to bring their cume to $61.2. SKYFALL has now passed the lifetime of QUANTUM OF SOLACE ($407.7 million) and tomorrow will pass that of CASINO ROYALE ($432.2 million).
Top markets: The UK fell off just 30% in its 3rd weekend, grossing a huge $18.2 to bring the market cume to $117.5. SKYFALL is now the 4th biggest film of all time in the UK with £72.9 million in the bank (and the biggest non-3D film), behind AVATAR (£94.0), TOY STORY 3 (£73.8), and HARRY POTTER AND THE DEATHLY HALLOWS pt 2 (£73.1). By tomorrow it will be #2 of all time. GERMANY was off just 30% from its opening frame, adding $15.1 and bringing the market cume to $44.0. FRANCE earned $8.2, cume now $42.5.
Other top markets for the weekend: HOLLAND was off just 3% from its opening frame ($3.7/$9.4 cume), SWITZERLAND fell 26% in its 2nd ($3.7/$10.9), ITALY ($2.8/$12.1), RUSSIA ($2.6/$22.0), SPAIN ($2.5/$9.9), SWEDEN ($1.9/$11.3), INDIA ($1.7/8.5), MEXICO ($1.7/$5.8), BRAZIL ($1.6/$10.6), DENMARK ($1.6/$9.9), NORWAY ($1.4/$9.1), KOREA ($1.4/$14.1), AUSTRIA ($1.4/5.4).
More: