'Skyfall' Stuntman Reveals How They Devised and Pulled Off the Movie's Big Set Pieces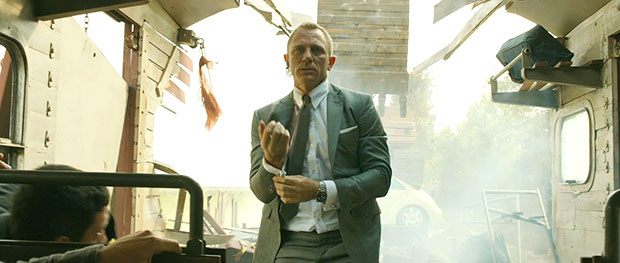 After honing his skills as a stuntman on GoldenEye, The World Is Not Enough, and Tomorrow Never Dies (among a variety of non-Bond blockbusters), Gary Powell returned to the 007 franchise as the mastermind of all things action. As a stunt coordinator, Powell works with the Bond directors — Martin Campbell, Marc Forster, and now Sam Mendes on this month's new release, Skyfall — to devise stunts that work in the context of the the suave spy's globetrotting missions.
"When we started off with Casino Royale, Martin [Campbell] set the tone straight away," says Powell. "The opening sequence was great because it was real." Powell says believability is the prime goal when constructing stunts for a Bond movie. The character may seem superheroic, but the mission is to never let the audience forget that he's a regular guy with luck on his side. "Everything we do now, we put it right on the edge of a-person-could-actually-survive-this. If everything worked out right for him. We literally push it to the edge of human capabilities."
Powell worked closely with Skyfall director Sam Mendes and long-time Bond producers Michael G. Wilson and Barbara Broccoli, who also trusted him with adding his own ideas into the script. Powell points to the film's complex opening sequence, a scene that involves a car chase and a big fight on top of a moving train. Born from a way to introduce us to the characters — namely, the Skyfall version of Bond, and Naomie Harris' character Eve — Powell says the digger sequence was a moment when Mendes and company stepped back and let the action-minded man do his work.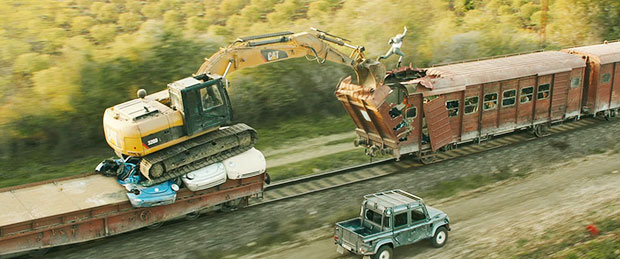 "Everything you see with the train is real," says Powell, who worked with a number of different skilled stuntmen to pull off the feat. For the beginning of the sequence, stunt driver Ben Collins was enlisted to man Bond and Eve's Land Rover — even though the actors would be seen in closeup driving the vehicle. "Basically, I was on the roof in what's called a pod system," says Collins. "It's like a metal cage with the steering and the pedals and the gears, so that basically I'm driving it from the roof with the actress underneath. Then we can really get the characters right into the heart of the action." Collins explains that hydraulic lines divert the steering to the roof, so that any motions made by Harris would be disconnected. He jokes, "It's pretty spooky for the actress."
When it comes to Bond-centric stunts later in the scene, it's all Daniel Craig. "Obviously, we have safety cables when Daniel is up there, but Daniel is up there," says Powell. "He ran up the arm and [it's him] on the train fighting." Powell praises Craig for tackling as many action beats as the production's insurance will allow him to attempt. It's a rare quality in a star, but Powell thinks it defines the actor's Bond films. "He feels like he [would be] cheating the audience. It's not an ego thing. Like, 'Look at me up there!' When the audience pays their money and goes to see the film, he wants them to know it's him up there."
Continuing to add to the reality, Skyfall shot its foot chase through The Tube, London's underground subway, on an actual platform that was no longer used by the public. "Originally, we were looking to use the real underground and having restricted access to it," says Powell. "But it became apparent that if, for any reason, something wasn't working, be it camera or lighting or anything, we wouldn't complete the sequence in the time allocated to us." Still, rigging a real life space for a Bond stunt — even when unoccupied by bystanders — presents a challenge. The space was equipped to send Bond flying down the escalator. Delicately flying. "You have to be respectful of the building. You can't start hacking holes in things. Makes it complicated."
One scene that was too complicated to shoot on location was Bond's infiltration of a Chinese skyscraper and subsequent fist fight — a sequence that sends Patrice the assassin flying out of a window. Bond stealthily grabs hold of the bottom of an elevator to follow Patrice, an effect that involved camera trickery but was no less demanding of Craig. "He does dangle," says Powell. "He's never standing, even if it's a blue screen set." To pull off the brutal brawl, Powell worked with fight coordinator Nicola Berwick, fight trainer Roger Yuan, and stunt double Damien Walters to choreograph a quarrel that would suit Mendes' vision. "We would put things together, video it, and show [Sam]. He says, 'I like that. I'm not too sure about that. Can you do this? Can you do that?' An ongoing process of building it up until we get exactly what he wants. And then when we turn up on the day, it's exactly what he wants. No making it up — that costs time and money."
While Powell avoids putting himself in harm's way these days ("I used to bounce really well when I was in my twenties. By the end of my thirties I wasn't bouncing as good."), his lengthy résumé makes him an asset to the filmmakers behind Bond movies. He knows action, but he also understands storytelling. "[Sam] had a very clear idea of how he wanted the action to be. Which is good — it wasn't just stunts," says Powell. "They have to make sense in the scene. Bond can't be doing something then out of the blue something turns up that doesn't fit in with the scene that's going on. Trying to keep it as real as possible. Making it believable."
Follow Matt Patches on Twitter @misterpatches
[Photo Credit: Sony Pictures (4)]
More:
'Skyfall' Stuntman Gary Powell Reveals His 4 Most Difficult Bond Challenges
'Skyfall' Star Daniel Craig on Bond Fandom: 'There Are Too Many Voices to Make Any Sense Of'
The Ending of 'Skyfall' and the Series Future — SPOILERS
From Our Partners: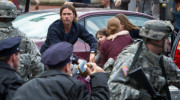 Brad Pitt Fights Zombies, Bad Hair(Moviefone)

Daniel Day-Lewis' Most Insane Movie Makeovers
(Moviefone)