Smurfs and the City: A Set Visit Report
On a particularly sunny spring morning last year, I was on the way to my SoHo office when I noticed a sizable production crew on Crosby Street. As I approached the set, I saw all the telltale signs of a location shoot: trailers, craft services, cameras and monitors, etc. Though the scene looked pretty standard to me, the set was partially dressed with one piece of discernible evidence revealing what was being filmed – a brown sign hanging above a random boutique emblazoned with the words "Juan's Magical Emporium" in a recognizable shade of light blue. It was then that I realized The Smurfs were going to take the entire island of Manhattan (not just the customary cinematic sections of the Big Apple – Times Square, Central Park, etc.), but I still wasn't convinced that the film would do the 50-year-old property justice.
That sentiment changed after I saw first-hand what Columbia Pictures is doing to bring legendary artist Peyo's lovable creations to life. I was invited to Queens' renowned Kaufman Astoria Studio's, where interiors were being shot and the production's offices were housed. Once inside, I was treated to never-before-seen footage from the film and an in-depth review of the beautifully rendered concept art that helped costume and production designers create the magical world in which the Smurfs live, as well as access to some of the talent and executives involved in the fun-filled, live-action/CGI motion picture. Most Smurftastic, though, was the opportunity to see a vibrant scene being filmed. It was an extensive and eye-popping exploration of The Smurfs and if you keep reading, you'll see exactly why old fans and new (as well as Sony Pictures) have so much to be excited about.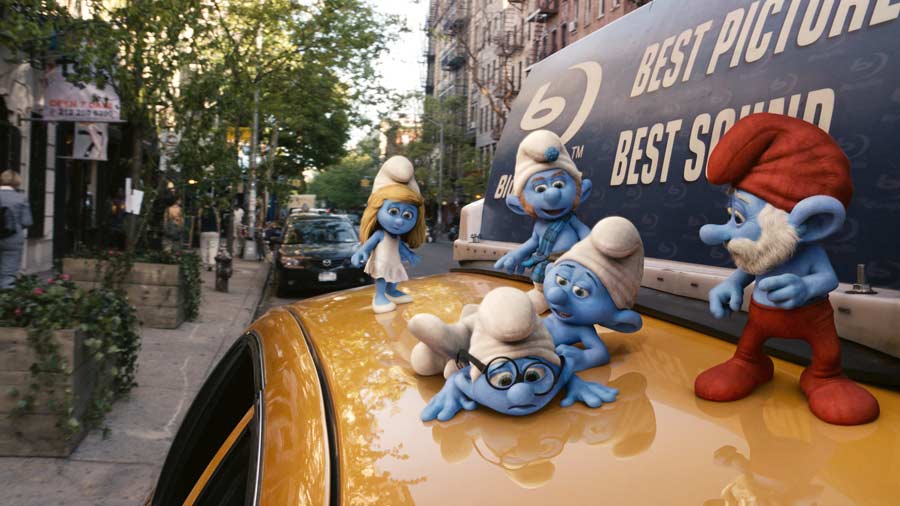 Let me start from the beginning of my entertaining journey. As I walked through the halls of the production offices, I noticed something incredibly encouraging: Smurf coffee mugs, Smurf pens and pencils, Smurf mouse pads – the staff may well have been wearing Smurf underwear. It had become quite clear to me that everyone involved in the film, from the gracious publicists who got me in there to the accountants tallying petty cash receipts, was immersed in the mythology and nostalgia of Peyo's world. With a workforce of dedicated fans such as these, I can say with confidence that the finished product that director Raja Gosnell will deliver on July 29th will be an authentic representation of the characters that I had grown up with: carefree, fun and full of innocent laughs.
I continued on through the fantastically decorated offices (covered with character design developments and various pieces of production art) until I came to a clearing where chairs had been set up for all of the intrepid journalists. In front of us stood a chair with the name "Patrick" tagged on it – it didn't take me long to figure out that Neil Patrick Harris was on the way.
Every bit the entertainer we've known and loved since Doogie Hauser M.D., Harris was an absolute delight to talk to: amusing, informative and kind. He let us know that, at this time, he and his on-screen wife Grace (played by Glee's Jayma Mays) had finished filming their parts and that most of their work was done on the Kaufman soundstages, though they had also shot scenes at landmark NYC locations like Central Park and FAO Schwarz. Additionally, he told us which Smurfs they'd grown most attached to, namely Papa Smurf (who shares many frames with Harris), Smurfette and Clumsy Smurf (who spend much of their time by Grace's side). It's a good thing that he got so close to the little blue guys, too, because the best part of the interview was finding out that he's already signed on for a Smurfs sequel!
As cool as it was to hang with NPH, the most interesting part of the set visit was getting to chat with producer Jordan Kerner, who is a living encyclopedia of Smurf knowledge. A veteran of family films like George of the Jungle and Inspector Gadget, there's no filmmaker better suited to bring a beloved property of this size to the big screen. Kerner guided us through the art department, where we saw renderings of Patrick and Grace's Manhattan apartment before and after it gets "Smurf'd", Gargamel's gothic castle and the Smurf village. Fans will fall in love with these fantastic environments because of how well they blend Peyo's vision and Hanna-Barbera's version of his stories. I particularly enjoyed hearing Kerner talk about how he wanted the Smurfs' recognizable mushroom houses to accurately resemble real mushrooms – a trippy creative choice that might raise a few eyebrows but will certainly gain the respect of die-hard Smurf followers.
Of course, making a movie like this isn't all fun and games. Kerner told us all about the pros and cons of filming in the Big Apple as well as the amount of time it took to get the project off the ground. For instance, did you know that he's been pursuing the rights to the property since 1997?! Further, did you know that perfecting the look of the digital Smurfs in the movie was going to take a whopping 18 months?! It just proves that turning a popular property into a major motion picture is a time-consuming labor of love, but Kerner promises nothing but the best when the boys in blue hit the big screen this month.
And speaking of the boys (and girls) in blue, let's give a brief shout out to all of the Smurfs who will end up on the big screen! There's Papa Smurf (voiced by Jonathan Winters), Smurfette (Katy Perry), Gutsy Smurf (Alan Cumming), Grouchy Smurf (George Lopez), Jokey Smurf (Paul Reubens), Greedy Smurf (Kenan Thompson), Baker Smurf (B.J. Novak), Handy Smurf (Jeff Foxworthy), Brainy Smurf (Fred Armisen), Clumsy Smurf (Anton Yelchin), Panicky Smurf (Adam Wylie), Vanity Smurf (John Oliver) and finally, Hefty Smurf (Gary Basaraba). All of them have unique and dynamic personalities that have been fully realized thanks to scores of animators and the actors who play them, so there will be plenty to choose from as your "favorite" (and also plenty of toys to buy). But as cool as it was to learn all about these cute characters the absolute best part of the set visit was getting to chat with their infamous nemesis Gargamel!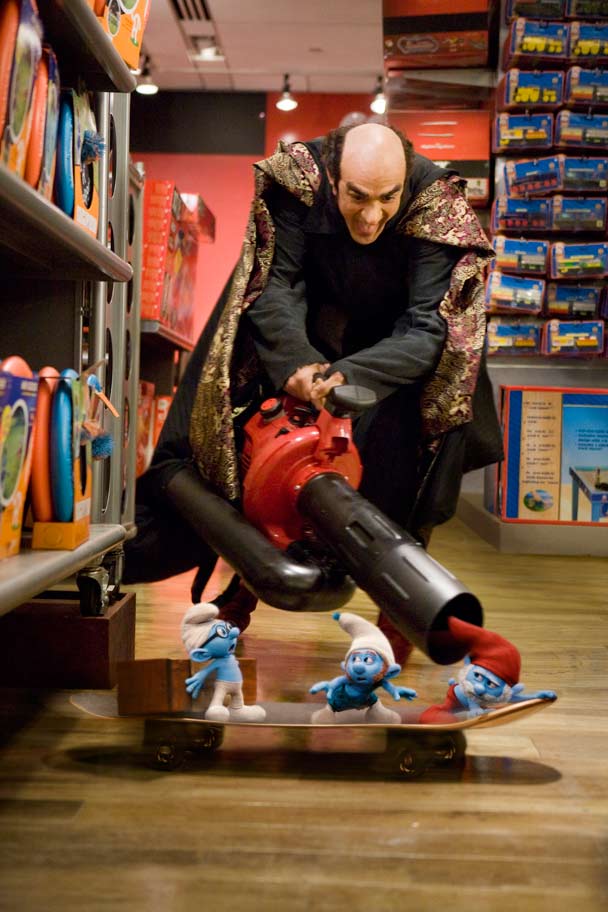 At one point the great Wallace Shawn was rumored to be donning the unmistakable brown cloak of the Smurfs' assailant, but by the time cameras were rolling screen and stage veteran Hank Azaria settled nicely into the role, as evidenced not only by the conversation we had with him (in character, with full make-up and costume on including the longest, most flexible fake nose I've ever seen) but by watching him shoot a hilarious scene that will play toward the end of the film! Without giving too much away, I'll say that it involves plenty of grooving-and-shaking atop Belvedere Castle in Central Park, and is the cherry on top of an all-around Smurftastic sundae!
Whether you're an avid reader of Peyo's books, a longtime fan of the unforgettable Hanna-Barbera cartoon or a ravenous collector of all things Smurf, Columbia Pictures' take on this beloved property is sure to make waves at your local multiplex, so get ready to paint the town blue!