'Spider-Man' Spins Friday Box Office Web!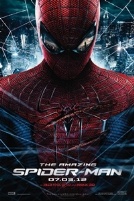 With great reviews and solid word-of-mouth it looks like Sony's reboot of the "Spider-Man" franchise The Amazing Spider-Man is on track to earn an impressive $60 to $65 million for the Friday through Sunday portion of the weekend and $160 to $165 million for the six day total for Tuesday through Sunday. After a record-breaking Tuesday gross of $35,850,000 the film has steadily built an audience throughout the week.
Here is the daily breakdown:
Tuesday – $35.850M
Wednesday – $$23.4M
Thursday – $15.8M
Friday – $20.7M
Projected weekend (F-S-S) – $60 to $65M
Projected 6 days (Tue. – Sun.) – $135 to $140M
The rest of the Friday Top 5 breaks down as follows:
1. Spider-Man – $20.7M/$95.7M
2. Ted – $10.5M/$98.1M
3. Brave 3D – $6.238M/$160.6M
4. Magic Mike – $6.135M/$63.3M
5. Savages – $5.7M/$5.7M  Katy Perry: Part of Me which opened Thursday debuted in 7th place with $2.7M on Friday and a Thursday/Friday total of $5.8M.
Box office was up about 25% over the same Friday a year ago when "Transformers: Dark of the Moon" was in its second weekend.