'Spring Breakers', 'Before Midnight', 'Much Ado About Nothing' On SXSW Film Lineup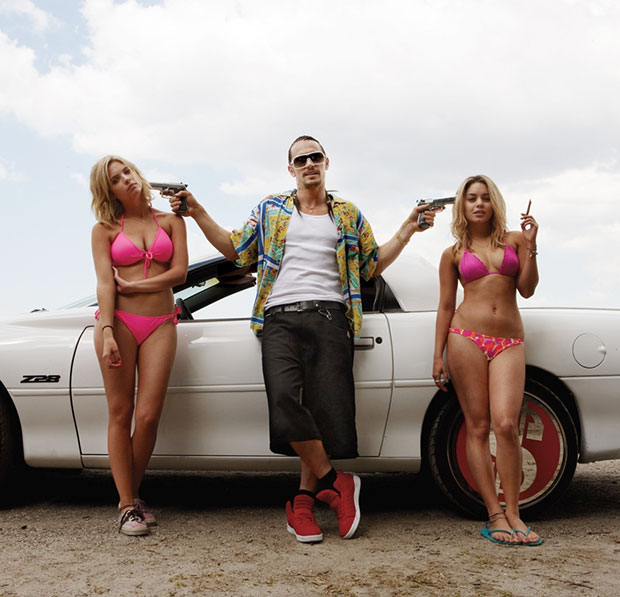 Don't mess with Texas. They know how to throw one hell of a festival.
The full lineup for films (109 in total) at the 2013 SXSW Festival in Austin has been announced, and it's got something for everyone. Joining previously announced headliners like the already-controversial Spring Breakers (pictured), as well as Evil Dead, and The Incredible Burt Wonderstone, are a slate of films that were smashes at the 2013 Sundance Film Festival like Before Midnight, Don Jon's Addiction, Mud, Upstream Color, Prince Avalanche, Sound City, and James Franco's other entry Maladies.
Films making their premiere at the SXSW Festival — which kicks off on March 8 and runs until March 16 — includes fest favorite Joss Whedon's eagerly anticipated adaptation of Much Ado About Nothing, the Jake Johnson and Olivia Wilde-starrer Drinking Buddies, and the documentary about the life of Stephen Hawking, fittingly titled Hawking.
The diverse lineup, which includes movies that star everyone from Josh Duhamel (Scenic Route) to Ken Marino (Milo) to Connie Britton (When Angels Sing) to Anna Faris (I Give It A Year), as well as the festival's foray into television (Vera Farmiga will be on hand to debut A&E's upcoming Psycho series Bates Motel) and panels (a conversation with the ubiquitous Matthew McConaughey, who stars in the buzzy Mud) has quickly made the once music-dominated SXSW into a must-stop on the film festival circuit. 
The full list of films are available on SXSW's website and be sure to check back in with Hollywood.com for full festival coverage.
[Photo credit: A24 Films]
More:
Sundance Post-'Beasts': The Festival Is More Important Than Ever
Hollywood.com at Sundance 2013

Miley Cyrus Teaches Us Yoga on the Beach — INFOGRAPHIC