'Spring Breakers': Why James Franco's Britney Spears Moment Is So Disturbing — VIDEOS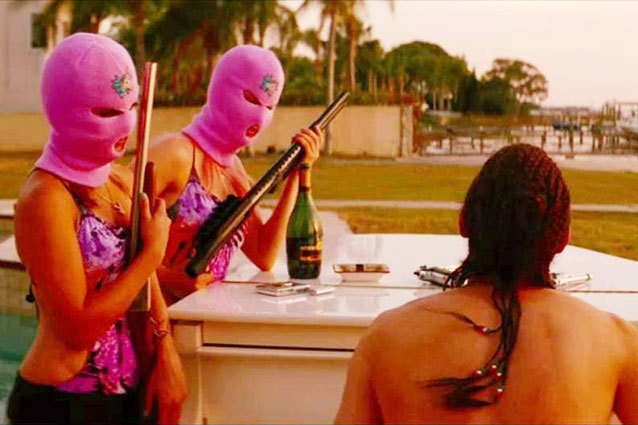 Warning: This post contains minor spoilers from Harmony Korine's Spring Breakers.
"Every time I try to fly/ I fall without my wings/ I feel so small/ I guess I need you baby." For anyone who was young in the early 2000s, those lyrics evoke the twinkly, yet disheartening innocense of Britney Spears' song about loss and heartbreak. The light quality of the piano on "Everytime" evokes a sense of youth and inexperience, something we can chalk up to Spears' musical style and the wide belief that this song was a response to her breakup with Justin Timberlake, whom she'd known since she was a child. But when this song makes its debut in Harmony Korine's dislodging film Spring Breakers, courtesy of James Franco's Alien, and it takes on a whole new life.
RELATED: Should James Franco Get an Oscar for Spring Breakers?
Alien sings the song as he tickles the ivory on his outdoor piano, three corrupted young spring breakers twirling around him in pink ski masks adorned with unicorns, sparkly pink tiger bathing suits, sweatpants with "DTF" on the rear, and shotguns in hand. Eventually, the song transitions from Franco's growly version to Spears' sweet original; the scenes flash from the waltzing teen deviants to scenes of them assisting Alien as he ties up and tortures other vacationers while he steals all their earthy possessions. It's jarring, it's terrifying, it's heartbreaking. It's a technique that appears often in film, but in Korine's raucous movie, the concept of soundtrack dissoance is used to such perfection, that "Everytime" practially takes on a new meaning for those who've witnessed the extraordinary scene.
The video from the film isn't available online, but for some context, here's the song itself:
It's no surprise that this moment takes place in Spring Breakers, a film that relies on music just as heavily as it does on visual elements. But, it's not the first to make use of the counter-intuitive practice of soundtrack dissonance. From A Clockwork Orange, to Alfred Hitchcock's The Birds, to every Tim Burton movie, and even Disney/Pixar's Up and ABC's Lost, the selection of the "wrong" music has served to force out an emotion, be it sadness or laugher or some other feeling. By forcing a distance between the viewer and the subject, a greater emotional reaction is achieved. 
RELATED: Lots of Dudes Had to Rub Up on Selena Gomez for 'Spring Breakers'
The most similar example to Spring Breakers' Britney ballad comes courtesy of A Clockwork Orange, when Alex leads his droogs into a robbery and eventual rape. The scene is violent, with the gang picking up and tying up their victim F. Alexander's wife while they merilessly beat Alexander himself and prepare to rape the woman. The whole time, Alex (Malcom McDowell) is cheerfully crooning "Singing in the Rain." (Be warned, this clip is very NSFW.)
With even greater brutality, but slightly more humor, comes this scene from American Psycho, in which Patrick Bateman (Christian Bale) switches on "Hip to Be Square" by Huey Lewis and the News before hacking  Paul Allen (Jared Leto) to bits with a sinister grin on his face. It adds an element of comedy, but one that still has us so disturbed, we're a little afraid to actually laugh. 
And you can't talk about violence paired with cheery music without including this scene from Reservoir Dogs, in which Vic Vega (Michael Madsen) rips up his victim while singing along to "Stuck in the Middle With You."
RELATED: 'Spring Breakers' Clip Introduces Us to James Franco's Alien
The trope exists on television too, where "Mama" Cass' "Make Your Own Kind of Music" became synonymous with the terror of the unknown on Lost. We first encounter the song when Desmond makes his first appearance as the mysterious threat in the hatch. He's got food, running water, some sort of terrifying vitamin injections. And as he's waking up with his mysterious routine, his very existence threatens our heros Jack and Locke as they peer down into this strange, unnerving new setting. Suddenly, the happy morning tune is one of imminent danger instead. 
In Tim Burton's films, it's almost always certain that something terrible is about to happen when children begin cooing in his Danny Elfman-scored soundtracks. One example exists in this Sleepy Hollow scene, which showcases a moment of calm between young Ichabod and his mother before the nightmares of her awful torture come back to the grown Ichabod (Johnny Depp).
The use of singing children, of course, isn't unique to Elfman and Burton. A classic use of the innocence of children juxtaposed with the danger of an agressor comes from Alfred Hitchcock's The Birds, in which Tippy Hedron witnesses the deadly crows gathering on playground equipment in front of a schoolhouse as the children sing a school days tune together. There's virtually no action, but the suspense born out of the children's song is incredible.
Then, there's the use of terror-to-pleasant-music juxtoposition that influenced so many films after it: the scenes of exploding nuclear bombs set to "We'll Meet Again" at the end of Dr. Strangelove or: How I Learned To Stop Worrying and Love the Bomb. 
And while this technique is most often used in situations of terror or violence, it can also be used for a laugh. In Up, after the first few minutes of the film render us weeping balls of mush, we're given a little comic relief at the hands of Carl in old age. The famous aria from Carmen, "L'amour Est Un Oiseau Rebelle." The pairing of Carl's stale, boring old man routine with the oppulence of the iconic tune evokes a sense of sad comedy, but one that helps us get into the lighthearted action of the rest of the film. 
Follow Kelsea on Twitter @KelseaStahler
[Photo Credit: A24 Films]
---
You Might Also Like:


Topanga's Revealing Lingerie Shoot: Hello '90s!


Stars Who Have Lost Roles For Being Too Hot (Celebuzz)