Tribeca Finds a Quintessential New York Movie in 'Stand Clear of the Closing Doors'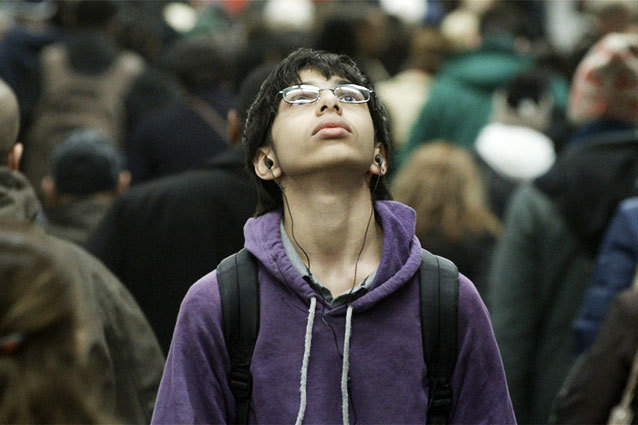 For many, outsiders and residents alike, New York City feels like the center of the universe. It's iconic in its own right, and thanks to filmmakers capturing the majesty of the diverse urban landscape in movies, New York is bigger than its own city limits.
The city has become such a big part of cinematic language, we even have "New York directors." Woody Allen, Martin Scorsese, Spike Lee — legendary names who shaped perspectives of their hometowns for the world to see. As New York continues to evolve, so do the artists who capture it. The core will always be the same, while the angle must change. Scorsese's New York is different from director Sam Fleischner's New York, and they're both better for it.
Fleischner's second feature film Stand Clear of the Closing Doors debuted at this year's Tribeca Film Festival, standing out as a quintessential New York movie. It lives and breathes the spirit of the city, embodying its sense of immediacy. Instead of capitalizing on the layered backgrounds of the Manhattan skyline like Allen, or delving into the phantasmagoria of the city's contrasting nights like Scorsese, or putting his fingers on the pulse of a neighborhood like Lee, Fleischner buries himself in the casual culture of New York. Every day, thousands of people ride the subway system, the blood that pumps through the veins of the five boroughs. Stand Clear is observational of the city's energy and color — filtered through a character hungry for sensory stimulation.
A 13-year-old Ricky (Jesus Sanchez-Velez) lives in Rockaway Beach, Queens with his mother Mariana (Andrea Suarez Paz) and sister (Azul Zorrilla). His autism is the family's greatest struggle — each day, Ricky needs to be carted back and forth from school, be pulled away from video games, and assisted in the bathroom. For his teeange sister, it's a nightmare. For his mother, who deals with it all on her own as her illegal immigrant husband works upstate for months at a time, it's a challenge that routinely pushes her to a breaking point. Like many autistic children, Ricky is also overflowing with life: he loves to draw, loves to play, and loves to imagine.
One day, Ricky's creativity gets the best of him. He becomes mesmerized by an embroidered dragon design on the jacket of a New York stranger, and follows the wearer to the subway. When he sits down and rides the subway with no destination in mind, he begins a trek that will implode Mariana's existence. She has to find her son, without a clue as to where to look.
Paz's work as a mother investing everything in order to find someone she loves is compelling, but Fleischner's strongest moments are when Stand Clear follows Ricky down the rabbit hole of the New York City subway system. He bounces from train to train, watching people from every spot of the spectrum move on and off, going about their daily lives. He's absorbed in sounds and gestures and faces and feelings. As anyone who has taken New York's metro system can vouch, the commuter experience is a miasma of personality — both positive and pitch black.
Ricky is a passive character as he soaks in the ride, playing out like a DSLR riff on the 1997 short film collection Subway Stories (which showcased the public transportation character through the visions of directors like Jonathan Demme and Bob Balaban). With today's technology, Fleischner can more accurately depict the truth of this ride and Ricky's story is all the better for it. What's not as emotional are the twists and turns on the other side of the narrative. The reality of the subway footage is so strong that Mariana's search, her clash with her daughter, and her struggle to go to work everyday while her son is out there in the world missing, feels staged and cold. Later in the film, Fleischner's ensemble is forced to confront Superstorm Sandy — an element that feels forced into the story rather than complimenting of it (even though Sandy's devastating effects are integral to a tale of modern New York). Stand Clear tries to sweep across all of the city instead of focusing on one fascinating point-of-view.
But Ricky's contemplative ride under the city streets is surreal and powerful enough to make Stand Clear of the Closing Doors a real find for the Tribeca Film Festival. Even if the characters aren't fully conceived, the perspectives are. With Stand Clear, Fleischner has delivered a great "New York movie," because he shows us his New York.
Follow Matt Patches on Twitter @misterpatches
More:
Tribeca's 'G.B.F.': Why Can't Gay Movies Ever Have a Hollywood Ending?
Tribeca's Child Abuse Film 'Dark Touch' Bends the Horror Genre
Tribeca's 'Some Velvet Morning' Is Not That Different From 'Star Trek'
---
From Our Partners:


Eva Longoria Bikinis on Spring Break (Celebuzz)


33 Child Stars: Where Are They Now? (Celebuzz)