Benedict Cumberbatch Rumored for 'Star Wars Episode VII' Role — J.J. Abrams, Please Stop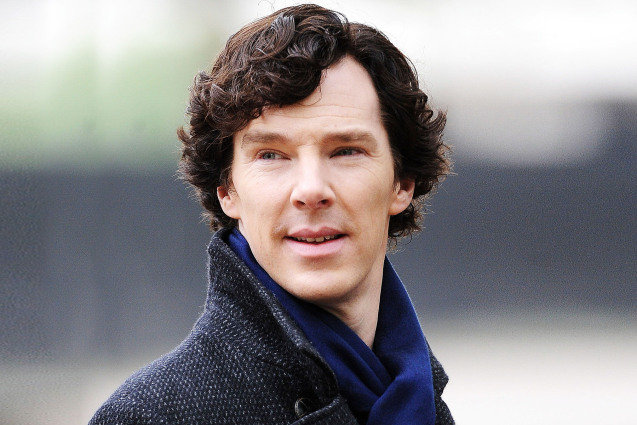 FameFlynet
We all know J.J. Abrams has a repertory company of actors who keep popping up in his work: Simon Pegg, Keri Russell, Greg Grunberg. But now Benedict Cumberbatch may be set to join that group. Star Trek Into Darkness' erstwhile Khan is rumored to be in the running for a role in Abrams' upcoming Star Wars: Episode VII, according to the website Film Chronicles. Admittedly, the source here is murky, and Lucasfilm is neither confirming nor denying the news — "no comment" is the preferred response of the House that George Built for any such rumors. But given Abrams' proclivity for repeat casting, it seems a definite possibility.
If this report turns out to be true, we can muster only one response — screw you, J.J. Abrams. Cumberbatch did his best as Khan in Star Trek Into Darkness, but you gave him an impossible challenge: to live up to the standard of Ricardo Montalban. Obviously, it didn't work, as Trekkers recently voted Into Darkness the worst Trek film of them all. (And here are 12 reasons why we agree.) If Cumberbatch will indeed play a character in Episode VII, it's going to be hard for me, and a lot of other fans, to avoid dwelling on Into Darkness connotations. That's not something Cumberbatch will have to worry about in any of his upcoming other projects like 12 Years a Slave, The Fifth Estate, and August: Osage County, but it will be everpresent in J.J.'s Galaxy Far, Far Away feature.
Lucasfilm and Disney obviously want Episode VII to be a fresh take on the saga. That's why they brought in screenwriter Michael Arndt, as well as Abrams himself. But Abrams seems like he wants to replicate what he did on the Trek films with Wars — he's already brought in his DP on Into Darkness to shoot the new film. Cumberbatch's casting will feel like he's deliberately retreading what he did in Trek. And I know some fans will quibble and say that was George Lucas' thinking when he originally decided against having Harrison Ford play Indiana Jones. But Dr. Jones came off Ford's universally beloved turn as Han Solo. We can't say the same for Cumberbatch as Khan.
Am I just a fan throwing a hissy fit or do you also object to the idea of Cumberbatch in Jedi robes? Khaaaaaaaaan!
More:
Alex Pettyfer & Rachel Hurd-Wood Considered for 'Star Wars Episode VII'
Seven of the Craziest 'Star Wars' Rumors Ever
'Star Wars: Crucible' Author on Han, Luke, & Leia's Passing of the Torch
---
From Our Partners:


A Complete History Of Twerking (1993-2013) (Vh1)


15 Stars Share Secrets of their Sex Lives (Celebuzz)