20 'Star Wars' Origin Stories We'd Like to See, Paired with the Best Directors for the Job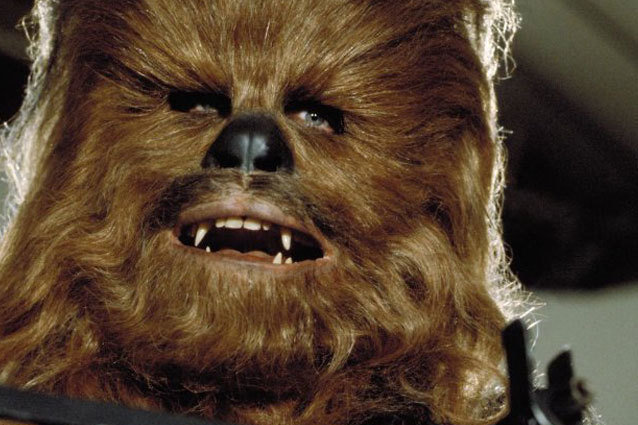 Lucasfilm
The Star Wars origin story films are a go, whether we're on board or not. So we might as well keep positive and hope for the best. We don't know for sure which Lucasfilm characters we'll see get individual treatment — beyond rumors about Han Solo, Boba Fett, and Yoda — but we can muster up a list of which denizens of that Galaxy Far, Far away would be most compelling. And, just to conflate our Star Wars nerd-dom with our general film industry nerd-dom, we can toss in a list of directors we'd like to see take on these projects. How likely are any of these creations we've come up with? Not at all. But this is a land for dreaming. Behold the Star Wars origin story movies we'd very much love to see…
Han Solo
Greedo Shooter, a twisted account of the pilot's young days of skirting the law and living it up. Written and directed by Harmony Korine.
Boba Fett
The Man with No Face, a vivid, heavy dramatic thriller. Written by Luc Besson and directed by Kathryn Bigelow.
Yoda
Master, a weighty drama about the dark depths to which a Jedi's mind can plunge. Written and directed by Werner Herzog.
Princess Leia
The Princess' Revolution, a politically-charged drama about ascending from royalty to righteousness. Written by Emma Thompson and directed by Joe Wright.
Chewbacca
The Growl of Man, a wordless epic about the Wookiee's journeys through the forests of Kashyyyk. Written and directed by Terrence Malick.
C-3PO
Just the Droid You're Looking For!, a verbose comedy about one droid's neurotic self-sabotage. Written and directed by Woody Allen.
R2-D2
(beep!), a charming Pixar film about a whistling robot who changes lives everywhere he goes. Written and directed by Brad Bird.
Jabba the Hutt
Porcelain Palace, a dark, perverse nightmare about the goings-on in a crime lord's den of sex and violence. Written and directed by David Lynch.
Lando Calrissian
Head in the Clouds, a sardonic farce about the Cloud City kingpin's moral decay. Written by Diablo Cody and directed by Jason Reitman.
Admiral Ackbar
Calamari, a sweeping exploration of the waterlogged planet of Mon Calamari. Written and directed by James Cameron.
Figrin D'an and the Modal Nodes
A Kloo Horn Melody, a pithy mockumentary about the longstanding rivalry of the Mos Eisley Cantina's house musicians with the Max Rebo Band. Written and directed by David Guest.
Jar Jar Binks
Gungan Man, a disturbing mission to latch onto one of the universe's most vile, deplorable creatures. Written and directed by David Cronenberg.
Uncle Owen and Aunt Beru
Midtown Tatooine, a dry dramedy about a loveless pair's decision to raise their ungrateful young nephew. Written and directed by Wes Anderson.
Grand Moff Tarkin
Abandon Ship, a wily, haunting adventure about a crew of Stormtroopers who want out of their dead-end business. Written and directed by Pedro Almodóvar.
Biggs Darklighter, Wedge Antilles, and Jek Tono Porkins
Fly, a dreamy navel-gazer about three Academy students who'd rather soar through space than think about the future. Written and directed by Richard Linklater.
Ponda Baba and Dr. Cornelius Evazan
We Don't Like You, a subversive buddy crook comedy about two wanted men who only love each other. Written and directed by Edgar Wright.
Mon Mothma
Center of the Universe, a political satire about the deafening bureaucracy behind the curtains of the Galactic Republic. Written and directed by Armando Iannucci.
Mace Windu
The Mighty Purple, a bloody exploitation film about a no-mercy warrior who takes justice into his own hands. Written and directed by Quentin Tarantino.
General Grievous
So I'm a Robot Now, a screwball comedy about a man-turned-cyborg who must adjust to life in his new form. Written and directed by David Wain.
Wicket
Fluff, a wondrous ballad about a delightful creature trying to find beauty in times of fear. Written by James Schamus and directed by Ang Lee.
What else can you come up with: a John Waters film about Bib Fortuna? A slow-burning Coen Bros drama about a young Qui Gon? Paul Thomas Anderson's take on pod racing? We're intrigued by all and any ideas. Sound off!
More:
Disney Offers Details on 'Star Wars' Origin Stories
Benedict Cumberbatch Rumored for 'Episode 7'
Alex Pettyfer and Rachel Hurd-Wood for 'Episode 7'?
Follow @Michael Arbeiter
| Follow @Hollywood_com
---
From Our Partners:


40 Most Revealing See-Through Red Carpet Looks (Vh1)


15 Stars Share Secrets of their Sex Lives (Celebuzz)