This Is Why You Don't Let Michael Haneke Direct 'Star Wars 7' — VIDEO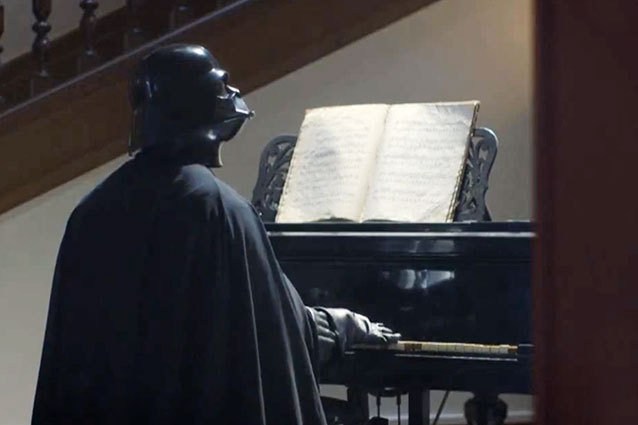 The new Star Wars VII trailer is here! … if Star Wars VII was made in an alternate French universe in which the story of the family dynamics between Darth Vader, Luke Skywalker, and Princess Leia played out tragically, much like director Michael Haneke's devastating Best Foreign Film Oscar winner Amour, at least.
RELATED: Kathleen Kennedy in for 'Stars Wars 7'
Anyone who is under the wildly misinformed impression that the French have no sense of humor clearly haven't been paying attention. While the country's biggest internationally successful film this year is Amour, the dour tale of the complicated love between two elderly people creeping towards the inevitable and unavoidable conclusion of life, the country's top film awards (The Césars) took a moment to celebrate their lighter side with a mash-up of Haneke's acclaimed film and the future Star Wars sequel.
From glimpses of Leia after her beauty has waned, to Luke struggling with the task of caring for his ailing father Vader, who's so far gone he thinks his little yorkie is Chewbacca, the clip fully embeds the Star Wars universe into the brutally realistic universe of Amour to hilarious effect. (No, seriously, it's okay to laugh. We promise.)
RELATED: The 7 Craziest Rumors About 'Star Wars 7'
One thing's for sure, Haneke's not cut out for J.J. Abrams' Star Wars VII directing gig, and not just because his light sabers are gentle enough to touch one's hand to the laser beam.
Watch the parody below:
Follow Kelsea on Twitter @KelseaStahler
[Photo Credit: YouTube]
---
From Our Partners:


40 Most Revealing See-Through Red Carpet Looks (Vh1)


15 Stars Share Secrets of their Sex Lives (Celebuzz)