Justin Long to Play Steve Jobs in a Third Biopic, This One by Funny or Die (We're Confused Too)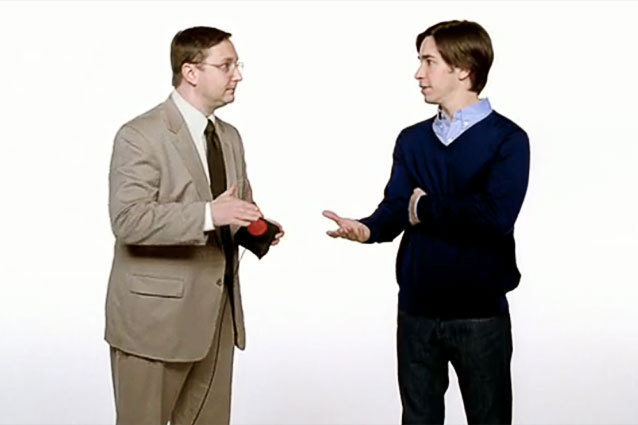 We understand film studios grasping for the rights to the story of recently deceased, hotly discussed iconic figures — a category into which Steve Jobs fits quite neatly. So we weren't shocked when biopic projects about the Apple founder began to multiply: first, there was the sure-to-snag-a-trophy Aaron Sorkin picture, still in development. Then, Ashton Kutcher's independent starrer, which just lost its hold on an April release date (and has been delayed indefinitely). And now, the third and strangest incarnation: Funny or Die — you know, the website with the 5-year-old landlady and the Don Cheadle Captain Planet — is producing its own feature length film about Jobs titled iSteve, with Justin Long playing the lead role.
RELATED: Aaron Sorkin's Entire Steve Jobs Biopic Will Be "Just Three Scenes"
Entertainment Weekly reports that Long, whose Apple roots date back to that string of "I'm a Mac, I'm a P.C." commercials, will play Jobs in a film that took three days to write, five to shoot, and amounts to almost 75 minutes in length. So, you know, a sure-fire rival for Sorkin's piece.
RELATED: 'jOBS' Is Like an Adaptation of Apple's Wiki Page, But Kutcher Sells It
Alongside the star, we'll see Lost's Jorge Garcia taking the role of Steve "Woz" Wozniak, and James Urbaniak and Michaela Watkins and Bill and Melinda Gates. The film was written and directed, in the loosest definitions of the words, by Ryan Perez (Saturday Night Live), who admits to EW that the movie is "not based on very thorough research," calling it, "essentially a cursory look at the Steve Jobs Wikipedia page." So, you know, a sure-fire rival for Kutcher's movie.
iSteve will premiere online on Apr. 15.
Follow Michael Arbeiter on Twitter @MichaelArbeter
[Photo Credit: YouTube]
---
You Might Also Like:


Topanga's Revealing Lingerie Shoot: Hello '90s!


Stars Who Have Lost Roles For Being Too Hot (Celebuzz)