Steven Spielberg to Lead Cannes Film Festival Jury, Award Heartwarming Tale of the Human Spirit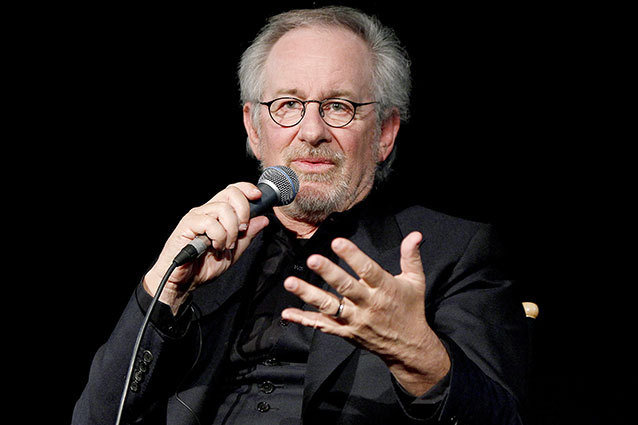 After losing out to Ang Lee at the 2013 Oscars, a win that would have earned him his third Best Director statue, Steven Spielberg has found an equally prestigious gig: leading the 2013 Cannes Film Festival jury.
Slated to begin on May 15, the Festival de Cannes enters its 66th year, with the legendary director presiding over the committee that will hand out the coveted Palme d'Or award. Spielberg is no stranger to Cannes, having screened Sugarland Express, The Color Purple, and E.T. at the festival. In a press release, film festival President Gilles Jacob admits to having chased Spielberg for years, never being able to secure him as Jury President due to his demanding shooting schedule. From the sounds of it, the Lincoln director couldn't be happier to squeeze Cannes into his 2013.
"My admiration for the steadfast mission of the Festival to champion the international language of movies is second to none," says Spielberg. "The most prestigious of its kind, the festival has always established the motion picture as a cross cultural and generational medium."
RELATED: Steven Spielberg Opens Up About His Dyslexia
Unlike the Academy Awards or most big name film festivals, Cannes is known for its worldly and eclectic lineups — not your standard Hollywood "prestige films." And while Spielberg continues to challenge himself with topics and styles outside his comfort zone, he certainly has an American film industry gloss to his movies. Which makes us wonder: will Spielberg wind up picking the most "Spielbergian" film of the crop? Cannes may be a chance for Spielberg to show off his tastes for movies he would never make, but we wouldn't be surprised if the winner winds up being an uplifting story following a person struggling against great odds (if it's a kid, even better) accompanied by a sweeping score and peppered with instances of the Spielberg Face: that mouth-agape moment embodying true amazement.
That's half of what's expected from the head juror: personal reflection. What Spielberg brings to the table as a filmmaker and as a movie-watcher will be reflected in his decision — and he won't be alone. Here are a few examples of Jury Presidents of yesteryears and the Cannes films they bestowed with the Palme d'Or. Just surprising enough:
2011: Robert De Niro, Tree of Life
As a performer highly regarded across the globe, it's not surprising that De Niro gravitated towards the grandest of 2011 competition entries. Terrence Malick's didn't win over everyone in France — apparently, they're not as keen on wheat fields as most Americans — but the story of troubled boyhood must have resonated with an actor who made a career out of playing dangerously warped men.
2010: Tim Burton, Uncle Boonmee Who Can Recall His Past Lives
Apichatpong Weerasethakul's winning film Uncle Boonmee revolves around a dying man wading through his memories alongside his family… including the ghosts of his loved ones. The weird and wonderful played right to Burton's tastes.
2009: Isabele Huppert, The White Ribbon
The White Ribbon is a dense, chilling exploration of how even the nicest kids can grow up to be murderous Nazis, but there may have been a little favoritism when Michael Haneke (Amour) picked up his second Palme d'Or: Huppert previously starred in his 2001 film The Piano Teacher.
2008: Sean Penn, The Class
Penn leads a double life: he's an award-winning actor who spends most of his time promoting social advocacy. The Class speaks to his off-screen quests, diving into the tricky world of education and boiling it down to human stories.
RELATED: In Defense Of 'Django' Director Quentin Tarantino's Worst Movie, 'Death Proof'
2004: Quentin Tarantino, Fahrenheit 9/11
His divisive and, often times, bizarre tastes (a published list of his favorite films of 2011 included Moneyball and The Three Musketeers) made Tarantino an unpredictable jury member. The fact that he landed on Michael Moore's caustic George W. Bush documentary — the first non-fiction film to win the Palme d'Or since 1956 — was both a shock and perfectly aligned with his sensibilities.
1994: Clint Eastwood, Pulp Fiction
Speaking of Tarantino, cinema's resident badass took the opportunity to award the rising directorial star at the 1994 Cannes Film Fest. When anyone pictured a lawman stuffing a gun in goon's face, the man holding the pistol was Eastwood. He was iconic. Tarantino's Pulp Fiction reshaped the identity of violence in movies, and it's logical that Eastwood would be the man to award the work.
1976: Tennessee Williams, Taxi Driver
Even today, Williams is one of the most recognizable American dramatists, a voice capable of reflecting the underbelly of the country's picture perfect image (in fact, he feels so mythical, it's hard to believe he was once a Cannes judge). So leave it to Williams to name Martin Scorsese's harrowing Taxi Driver — one of the director's many this-can't-possibly-be-how-this-country-actually-is-oh-wait-it-totally-is-NOOOOO films from the '70s and '80s — with the Palme.
1966: Sophia Loren, The Birds, the Bees and the Italians
Legendary Italian bombshell picks Italian sex comedy? Perfetto!
Follow Matt Patches on Twitter @misterpatches
[Photo Credit: FameFlynet]
---
From Our Partners:


40 Most Revealing See-Through Red Carpet Looks (Vh1)


33 Child Stars: Where Are They Now? (Celebuzz)