Summer Olympics Forever: 8 Sports Movies to Keep the Spirit Alive
The Olympics may only last two weeks, but thanks to the wonders of cinema, you can enjoy inspirational athleticism of your choice for (at the very least) days to come. If you're in need of a fix — even for those smaller sports, the ones you spent hours starring at pixaleated live streams just to catch — then we've got the perfect movie marathon for you. Check out these titles, must-watches for any Olympic nut:
Gymnastics: Peaceful Warrior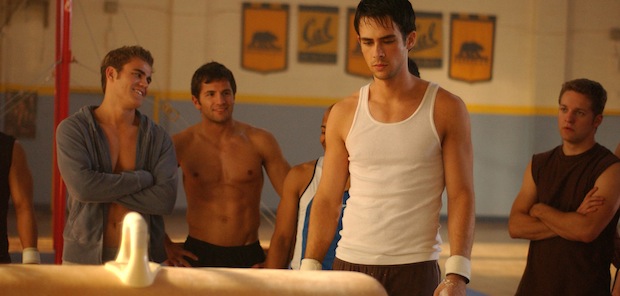 The men and women gymnasts who've spent the last two weeks competing in London making the rhythmic sport look so… easy. Guess what? Not true. As Peaceful Warrior poignantly points out, while high beams and ring routines take a lot of physical strength, they also take a lot of brains. The story of a UCLA gymnast who gets the sport down, but struggles with mastering self-obedience and courage, Peaceful Warrior shows off a whole other side of the Olympic-friendly sport. And no tape delay!
Swimming: Pride

Sorry fans of the bats**t crazy thriller Swimfan, for a realistic dose of 100m freestyle action, turn to the tkDATE drama Pride starring Terrence Howard and Bernie Mac. Not only is it one of the few docudramas that centers on the swimming, it carves out a further niche being one of the even fewer that chronicles African-American competitors. 
Fencing: By the Sword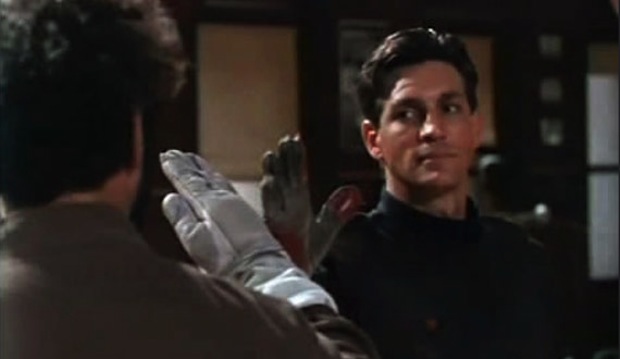 By the Sword pits F Murray Abraham and Eric Roberts in a sparring match of sword tips and overacting. This one might be harder to find then others (amazingly, fencing dramas aren't in as high a demand as they were back in tkDATE), but for a taste of what movie magic can do to the sport, check out this clip from the film:
Table Tennis: Ping Pong Playa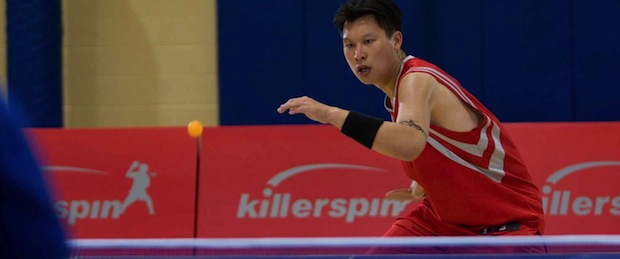 Sadly, you won't find much Olympic ping pong airing on the major NBC outlets, as its not one of the U.S.' more illustrious competitions. So it's no surprise that it also takes a little searching to find a movie that takes its ping pong seriously (no, Balls of Fury does not fall into that category). The Chinese comedy Ping Pong Playa is like the Mighty Ducks for the small-scale sport, following an underdog goofball who needs to step up, confront his fear of failure and kick some butt in table tennis. Don't be scared of embracing foreign film — that's what the Olympics are all about, after all.
Cycling: The Flying Scotsman

The awe-inspiring displays of athleticism make the two solid weeks of Olympics engrossing. The coverage builds stories around the athletes, turning their moment in the spotlight into pure drama. It can't be beat. Thankfully, the occasional sport movie nears that level of intensity. The British cycling drama The Flying Scotsman focuses on real like biker Graeme Obree, who battled bipolar disorder while trying to set new records and win the 1993 Individual Pursuit World Championship. Grab a few tissues before this one.
Beach Volleyball: Side Out

The dream team of C. Thomas Howell (The Amazing Spider-Man) and Courtney Thorne-Smith (According to Jim) lead this rise-to-fame beach volleyball tale based on a rule that had been made obsolete nearly forty years prior to its 1990 release. Whatever. If you're only other option is Air Bud: Spikes Back, you go with Side Out.
Tennis: Wimbledon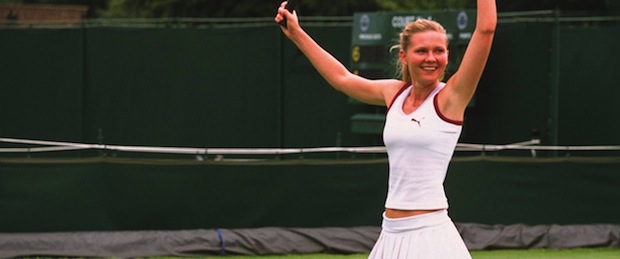 The Olympics, the US Open, Wimbledon — more than ever, tennis is becoming one of the most talked about sports in the U.S., with Roger Federer, the Williams sisters, and Andy Roddick as popular as the biggest names in football or basketball. So why is the only legit Hollywood tennis movie Wimbledon, a romantic comedy starring Kirsten Dunst? No matter, it's worth watching, if only to keep the Olympic train chugging along. Dunst and costar Paul Bettany were trained to play, so the actual serving and stroking is the real deal. But let this be a call to action: Hollywood, we need more tennis movies!
Wrestling: Win Win

Every Olympian starts somewhere, and Win Win is the proof. Both a movie about the ins and outs of small town wrestling and a showcase for newcomer and actual wrestling prodigy Alex Shaffer, the dramedy pins the almighty sport metaphor with ease and watchability. Having Paul Giamatti as a sparring partner for the young athlete might be the best gift a wrestling movie ever received.
Follow Matt Patches on Twitter @misterpatches
[Photo Credit: ]
More:
Olympic Superlatives: The Best and Worst from London
London 2012: How to Create an Olympic Superstar