SXSW: 'I Give It A Year' Is A Rom-Com That Tests Your Patience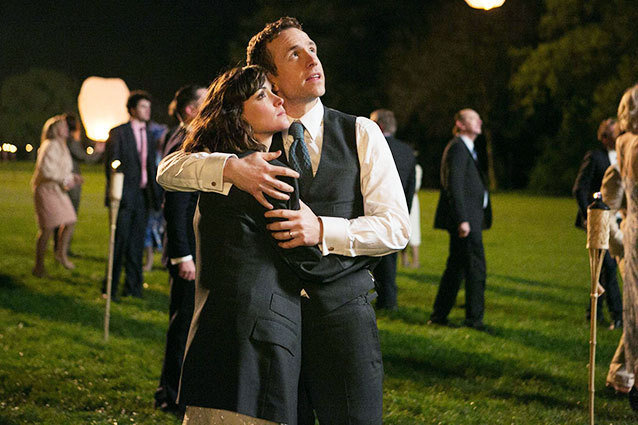 "It was like something out of a Hugh Grant movie." That's something one of the array of insufferable, mean-spirited characters in Dan Mazer's romantic comedy I Give It a Year utters while describing a wedding, but the sentiment certainly echoes the very movie they're appearing in.
But don't go thinking this is a quality Hugh Grant romance set in London like Bridget Jones' Diary About a Boy or Love Actually. No, we're talking about a movie more along the lines of Bridget Jones: The Edge of Reason or Nine Months or Did You Hear About the Morgans? I Give It a Year is a bad Hugh Grant movie that doesn't even give us the courtesy of giving us Hugh Grant. 
Much like The Incredible Burt Wonderstone, I Give It a Year is a mainstream comedy that worked its way into the indie-friendly SXSW festival and made its presence unwelcome. That's not to say broad appeal comedy can't play well at SXSW (Drinking Buddies, a smart, funny comedy has been a prime example of that), it's that if you're a flick with distribution on your side and marquee names, you better earn your keep here in Austin. 
RELATED: SXSW Review: 'Drinking Buddies' is a Good Time, With Less Filler
I Give It a Year, which debuted on over the weekend at SXSW, revolves around Natalie (Rose Byrne) and Josh (Rafe Spall), a couple who rushes into marriage, and to the surprise of no one, things turn sour fast. How fast, I have no idea, because the timeline in this movie jumps so frantically it might take me a year to figure it out. 
It certainly doesn't help matters that Josh is an unmotivated writer (poor Spall is essentially just re-visiting his role as the goofy sap in One Day here) and that Natalie is a shrill, nasty career woman, or if we're supposed to give a s**t about either of these one-dimensional people and their horror show of a relationship. 
Conveniently, Josh is still close with his ex, the down-to-Earth and cool Chloe (Anna Faris, who I officially fear may never leave rom-com hell). We know Chloe is down-to-Earth and cool because she doesn't wear makeup and works in non-profit. Additionally, Natalie meets a handsome, driven client at work named — wait for it — Guy (Simon Baker) and their sexual attraction simply cannot be denied. So much so that she takes off her wedding ring whenever she sees him. Are you in stitches yet? Couldn't you just positively die? 
RELATED: SXSW: Michelle Monaghan On Her Female-Driven Comedy 'Gus' 
I Give It a Year, at its core, is actually a really ugly movie packaged as a frothy romantic comedy. It tries desperately to be edgy by having raunchy humor, but it just comes off as crass and out of place. It is jam-packed with a variety of characters that are either despicable or downright unbelievable, or in the case of Stephen Merchant's Danny, Josh's lame, rude best friend that no one in their right mind would invite to get a cup of tea, let alone make their best man.
Incidentally, Minnie Driver plays Natalie's bitchy sister Naomi, but at least her marriage gives her a reason to be cranky. Danny is just a pointless d**khead whose main object is provide comic relief, but only earns uncomfortable groans, on and off screen. (Terribly disappointing, considering what a tremendous talent Merchant is). 
All of these characters are so terrible (even Farris' overtly likable character is too much of a sad pushover to admire or root for) you won't care who they wind up with, a veritable kiss of death for a romantic comedy. While Mazer's direction is sleek, the writing is too predictable and too dreadful to make up for it. I Give It a Year might not be the worst rom-com you'll ever see, but it's probably one of the worst ones you would see at SXSW. 
RELATED: 'Short Term 12' Wins Grand Jury Prize at SXSW 2013 Film Awards
[Photo credit: Working Title Films]